Community Calendar Week of 12-16-13
Community Calendar Week of 12-16-13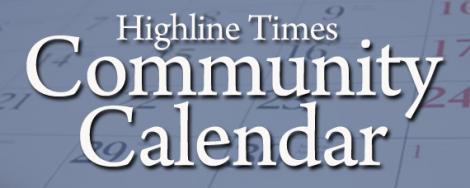 Mon, 12/16/2013
Deadline for receiving items for Community Calendar is 5 p.m. Wednesday for the following week's Times/News. Events are published based on timeliness and space availability. Email submissions to: calendar@robinsonnews.com
Items can be accepted from nonprofit groups and government agencies only. Others may call Dona Ozier at 206-708-1378 for inclusion in our "Out & About" advertising section.
B-Town's Recovering Youth in Motion Recovery Night
Burien Library Multipurpose Room
400 S.W. 152nd St.
Thursday, Dec. 19, 6-8:30 p.m. Open to youth 13 to 25 recovering from drug and alcohol addiction. Music, games, movies, prizes. More information at 206-251-9171 or Facebook.com/B.towns.ryim.
King County Water District No. 20 Board of Commissioners
Regular meetings are on the first Wednesday and third Tuesday of each month at 10 a.m. at the district office located at 12606 1st Avenue South, Seattle. For more information, please call 206-243-3990.

Free Community Dinner
Grace Lutheran Church
22975 24th Ave. S.
Every 2nd Tuesday of month, 5-6:30 p.m. Bring your family and friends. All are welcome.
Boulevard Park Library December Events
12015 Roseberg Ave. S.
206-242-8662
Children & Families:
Art in the Library ~ Thurs., Dec 26, 2 p.m. Ages 6-12. Explore the colorful world of Henri Matisse. Make your own cut-paper art to take home.
Adults:
Computer Class-One-on-One Assistance ~ Mon, Dec. 23 & 30, 5:30-6:30 p.m. If you need extra help on the computer, a KCLS volunteer instructor can help you. No appointment necessary, assistance provided on a drop-in basis using a library laptop.
Free In-Person Assistance-Washington Health Benefit Exchange Signup
**ONGOING CALENDAR WITH NO EXPIRATION DATE

Matt Griffin YMCA
Bilingual Play 'N Learn (Spanish)--Mondays, 2-3 p.m. Bilingual play groups are organized for young children 0-5 years and the people who take care of them. Register at 206-244-5880 YMCA, 3595 188th St., SeaTac 98188. Free to the community.
Highline Medical Center
Hospice volunteer training—Highline Hospice is seeking caring and compassionate volunteers interested in working with terminally ill patients and their families. Volunteers provide patient support, caregiver respite, bereavement support or office assistance. Also in need of office volunteers to assist with filing and mailings. Contact Michele at 206-439-9095 or mfawcett-long@highlinemedical.org.
Religion
Transform Burien—Free clothing and non-perishable food. Sundays and Wednesdays. Noon- 2 p.m. 425 S.W. 144th St. Donations accepted. For information, 206-244-1399. transformburien.org.
Donations
Water District 20--Water District 20 wishes to remind everyone that we are accepting donations throughout the year of food and cash on behalf of the White Center and Highline Area food banks. 12606 1st Ave. S.