Jerry's View: Christmas giving means a lot to those in need
Jerry's View: Christmas giving means a lot to those in need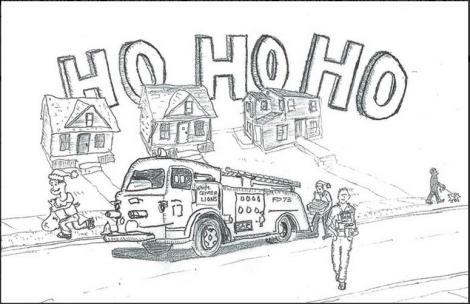 Cartoon by Scott Anthony
Mon, 12/23/2013
I was born and raised in Portland, Oregon and Christmas was always pretty slim at our house but one thing we kids looked forward to every year in the twenties was a visit to our house by the Sunshine division of the Portland police department.
Without any fanfare each Christmas season, unannounced, a big police truck would pull up at the front door of our house. A bunch of uniformed men marched up the walk. They announced that they had a barrel of food and presents for the Robinson family and proceeded to carry it into the front room and deposit it on the floor. We were always excited because the food included a turkey, a pie or two, some games and toys and some fresh veggies. It was, as the saying goes, "manna from heaven."
After leaving us gawking kids standing on the front porch, they headed down the street to play Santa to some other family.
The White Center News had a mini version of the program in the 50's.

We asked Fred Metzler if he could help. Many people knew the rotund Metzler, a popular White Center insurance man who had a generous heart. He would be the perfect Santa. He doubtless resides in heaven today. He had a huge regard for the needy and agreed to head up our annual Christmas food drive. Working with the White Center fire department, Fred played his part perfectly, dressed in red and sporting a shaggy white beard. I took two of my boys and together we were able to gather a huge couple bags of toys from Olberg's thrifty drug store and others. Many other volunteers contributed clothing, food and money to the cause.
The Robinson boys got a big kick out of playing Santa helpers. The shiny fire truck, loaded with those boxes and bags of groceries and toys, would cruise slowly through the housing project while volunteers, firemen and the boys would hop off and on carrying the bags to each home. Like my time in the 30's, the youngsters were gawking from their porches as we moved down the street. For me, it was payback. For the boys it was a great lesson in giving while having fun at the same time. For Fred it was part of who he was. A big man with a big heart who saw a need and filled it.
Merry Christmas Fred.