Community Calendar Week of 12-30-13
Community Calendar Week of 12-30-13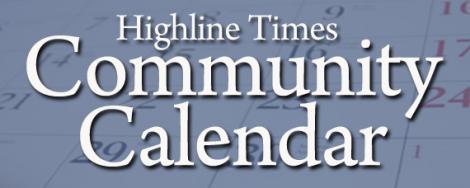 Mon, 12/30/2013
Deadline for receiving items for Community Calendar is 5 p.m. Wednesday for the following week's Times/News. Events are published based on timeliness and space availability. Email submissions to: calendar@robinsonnews.com
Items can be accepted from nonprofit groups and government agencies only. Others may call Dona Ozier at 206-708-1378 for inclusion in our "Out & About" advertising section.
Boy Scout 375 Christmas Tree Re-Cycle
Herr Nursery Site 5 Corners at 160th Sat. & Sun., Jan 4 & 5, 8-4 p.m. $5 donation per tree. Thanks everyone for your decade of support of our primary fund raiser of the year.
Southgate Eastern Star Christmas Tree Recycle
Southgate Masonic Hall 1004 S.W. 152nd St. Sat., Jan. 4, 9-2 p.m. Suggested donation $5. No flocking or tinsel on the trees. We will happily recycle your Christmas tree back to nature. Info: Jan at 206-849-7906. Eastern Star: Making a positive impact in or community.
Boulevard Park Library January Events
12015 Roseberg Ave. S. 206-242-8662
Children & Families:
Family Story Times ~ Wed., Jan. 8,15,22 & 29, 6:30 p.m. All ages welcome with adult. Family Movie Night ~ Tues., Jan. 14, 6 p.m. All ages welcome with adult. Contact library for movie title.
Early Literacy Parties in Spanish ~ Saturdays., Jan. 18 through March 15, 11 a.m. Series of eight free workshops in Spanish for families to learn about Early Literacy and how to prepare their children for Kindergarten.
Children & Teens:
Study Zone ~ Mon., Tues. & Wed., 6-8 p.m. (None on Wed., Jan. 1 & Mon., Jan. 20.) Grades K-12. Drop-in for free homework help from trained volunteer tutors.
Adults:
Computer Class-One-on-One Assistance ~ Mon, Jan., 6,13 & 27, 5:30-6:30 p.m. If you need extra help on the computer, a KCLS volunteer instructor can help you. No appointment necessary, assistance provided on a drop-in basis using a library laptop. Computer Class-Microsoft Excel Level 4 ~ Thurs., Jan., 9, 5:30 p.m. Please register. Start to Fitness ~ Begin the New year with a more active, healthy lifestyle. Throughout 2014, find ideas, inspiration and tips on simple ways to add more movement and healthy options to your life through this new adult series. HYPERLINK "http://www.kcls.org/fitness" www.kcls.org/fitness
Free Community Dinner
Grace Lutheran Church 22975 24th Ave. S. Every 2nd Tuesday of month, 5-6:30 p.m. Bring your family and friends. All are welcome.