City of Burien and Discover Burien to host 9th annual Empty Bowls fundraiser on January 31
City of Burien and Discover Burien to host 9th annual Empty Bowls fundraiser on January 31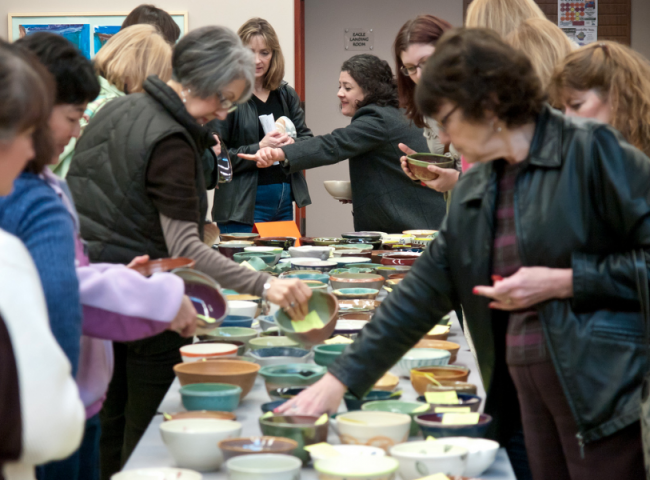 Mon, 01/20/2014
By Matt Wendland

The City of Burien and Discover Burien will once again be hosting their annual Empty Bowls fundraiser on January 31st at the Burien Community Center.
Empty Bowls has been held on the last Friday in January for the last eight years. Put simply, would be supporters of the Highline Area Food Bank and White Center Food Bank have the opportunity to make donations to the organizations by attending the event, purchasing a bowl produced by a local potter from the Moshier Community Art Center, and fill it with soup donated by various local businesses.
In 2013 the event raised $16,762 for the two area food banks and was attended by over 930 people. Each year soups donated by local businesses are put to the test and given awards. In 2013, 1st prize went to CC's Lounge on 152nd Street for their Ham Chowder. There was a tie for 2nd place between Ivars with their Clam Chowder and The Tin Room in Olde Burien with their Creamy Potato Soup. Elliot Bay Brewery took 3rd Place with not a soup, but their No Doubt Triple Threat Chili. The judges for the year were former Burien Mayor, Noel Gibb, Kevin Fitz, former owner of Burien's Meal Makers, and Shellie Hart, former Burien resident and radio host on Warm 106.9.

The event will held on Friday, January 31 from 11am to 2pm and 4pm to 8pm at the Burien Community Center at 14700 6th Avenue S.W. in Burien. There is a $15 minimum donation for adults and a $10 minimum donation for children. Attendees will receive a handmade bowl of their choosing as well a meal made up of soup and baked goods donated by area businesses. Proceeds will be given directly to the Highline Area Food Bank and the White Center Food Bank which are both located in Burien.
For more information about the even, contact Burien Parks, Recreation and Cultural Services by calling Gina Kallman at 206.988.3700.