SLIDESHOW: Sports Roundup for 3-28-14
SLIDESHOW: Sports Roundup for 3-28-14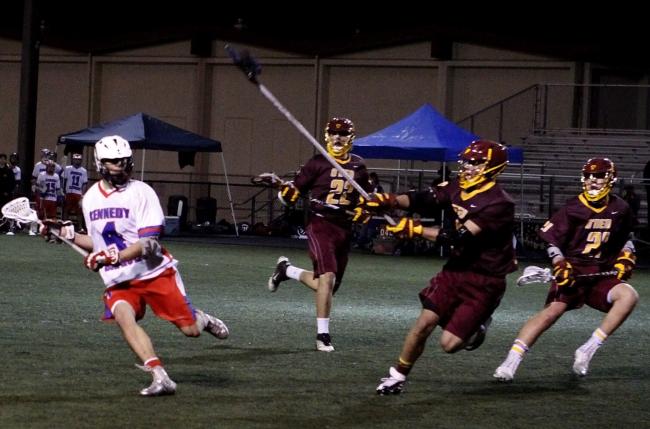 Photos by Suzanne Tennant
Mon, 03/31/2014
Monday, March 24
Baseball
Highline 4, Liberty 2
Highline's Pirates edged out the Patriots in non-league action last Monday.
Boys soccer
SCS 5, Eatonville 1
The Warriors waltzed to victory over Eatonville in a Nisqually League game on Monday.
Tuesday, March 25
Boys soccer
Kennedy 2, Highline 0
Kennedy Catholic cruised to a victory over the Pirates this past Tuesday.
Foster 2, Lindbergh 0
The Bulldogs buried Lindbergh in Seamount League action Tuesday.
TJ 2, Mt. Rainier 1
Thomas Jefferson topped the Rams in a South Puget Sound League North Division battle on Tuesday.
Hazen 4, Evergreen 0
Hazen's Highlanders hammered the Wolverines this last Tuesday.
Baseball
Cedar Park Chr. 9, SCS 6
Cedar Park Christian outslugged the Warriors in Tuesday's game.
Girls lacrosse
Seattle Prep 13, Kennedy 7
Gretta Richardson netted four goals and Ruby Fulmore scored three as Seattle Prep secured its second girls high school lacrosse win of the spring with a 13 – 7 defeat of Kennedy Catholic, Tuesday at Sunset Park in SeaTac.
The Panthers applied an eight-goal first then cruised with five in the second for the win.
Kennedy was led by Eileen Burns with three goals.
Southwest Seattle 13 , Tahoma 11
The Southwest Seattle team of West Seattle, Burien and Tukwila tallied a victory over Tahoma on Tuesday.
Wednesday, March 26
Boys lacrosse
O'Dea 8, Kennedy 7
O'Dea High School secured its first varsity boys lacrosse win with an 8 – 7 overtime victory over Kennedy Catholic on Wednesday at Foster High School in Tukwila.
The win was the first for the Fighting Irish under first-year head coach Drew Snider.
Kennedy (1-2-0) next faces Emerald Ridge-Puyallup (2-1-0), Tuesday, April 1 in a 7 p.m. start at Sparks Stadium in Puyallup.
Fastpitch
Kennedy 20, Foster 4
Kennedy broke out the bats in a big way against the Bulldogs this past Wednesday.
Boys soccer
Tyee 1, Enumclaw 1
Tyee tied the Hornets in Wednesday's non-league game.
Cedar Park Chr. 4, SCS 3
The Warriors were edged by Cedar Park Christian in Wednesday's boys soccer action.
Track and field
Mount Rainier
The Rams took a 90-55 loss to Kent-Meridian on the boys side Wednesday as the girls were topped by the Royals, 94.33-53.67.

Thursday, March 27
Girls lacrosse
Kennedy 14, Southwest Seattle 9
Ashley Cusack and Eileen Burns each scored six goals to lead Kennedy Catholic to its second girls high school lacrosse win of the spring with a 14 – 9 defeat of the Southwest Seattle club Thursday at Mosier Field in Burien.
Kennedy put up six in the first half then added eight down the stretch to secure its second win of the spring. Southwest Seattle of West Seattle, Burien and Tukwila scored four in the first and five in the second.
Gabby Rojas Luna scored six for Southwest Seattle and Tajinique Ruffin struck for the other three goals.
Kennedy Catholic (2-2-0) next faces Nathan Hale (2-3-0), Tuesday, April 1 in a 6 p.m. start at Jane Addams School in Seattle. SW Seattle (1-3-0) next faces Nathan Hale (2-3-0), Tuesday, April 1 in a 7:45 p.m. start at Mosier Field in Burien.
Boys soccer
Mt. Rainier 1, Tahoma 0
The Rams blanked the Bears in an SPSL North game this past Thursday.
Baseball
Kentridge 10, Mt. Rainier 1
The Kentridge Chargers raced past the Rams in Thursday's game.
Track and field
Foster-Tyee-Evergreen
Evergreen trimmed Foster by a 65-61 score in boys action Thursday as Foster trounced Tyee, 92-25. Hazen's Highlanders defeated Foster, 107-38.
On the girls side, Foster topped Tyee, 92-25, and Evergreen, 97-20. Hazen was an 88-51 winner over the Bulldogs of Foster.
Kennedy-Highline
Kennedy placed second in a four-way meet on the girls side Thursday.
Lindbergh won with 125 points ahead of JFK's 86, Renton's 64 and Highline's 16.
Lindbergh scored 111 points in also winning the boys meet, ahead of the 81 of Renton, 59 of Kennedy and 17 of Highline.