SLIDESHOW: Sports Roundup for 3-31-14
SLIDESHOW: Sports Roundup for 3-31-14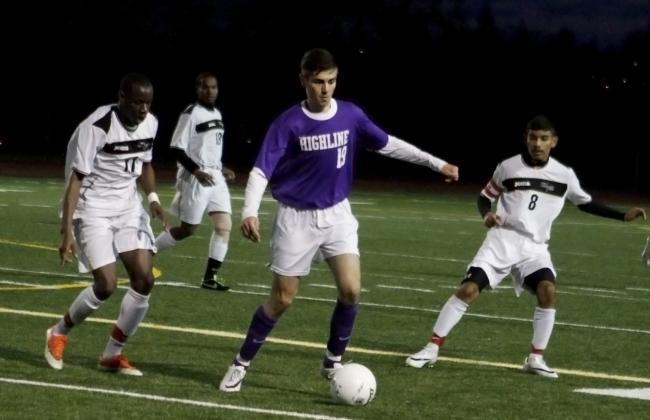 Photos by Suzanne Tennant
Mon, 03/31/2014
Friday, March 28
Boys soccer
Tyee 4, Highline 0
Tyee's Totems tallied a convincing victory over the Pirates in Seamount League action this past Friday.
Adama Kante scored two goals to lead the way and Alan Mora earned the shutout on goal.
Lindbergh 2, Evergreen 0
Lindbergh blanked the Wolverines in a Friday Seamount match.
Kennedy 3, Foster 0
Will Prothero and Layton Thommasen split the shutout for the Lancers in Friday's win over the Bulldogs.
SCS 11, Chimacum 0
Bradley Poerio poured in three goals for a hat trick to lead the Warriors past the Cowboys in a Nisqually League match Friday.
Andrew Gesell and Ryan Alfrejd shared the shutout on goal.
Boys lacrosse
Lakeside 11, Kennedy 7
Peter Bromley's hat trick led the way as Lakeside evened its boys high school lacrosse record at 2 – 2 with an 11 – 7 defeat of Kennedy Catholic, Friday at Foster High School in Tukwila.
After playing head-to-head lacrosse in the first, Lakeside eased ahead with two second-quarter goals to take a 4 – 3 lead into the half.
But it was the Lions five-goal third that put the Lancers away, as Lakeside built its lead to 9 – 6 heading into the fourth.
In the final set, Lakeside again outscored the Lancers, this time 2 -1 to close out the scoring.
Kennedy Catholic (1-3-0) next faces Emerald Ridge-Puyallup (3-1-0), Tuesday, April 1 in a 7 p.m. start at Sparks Stadium in Puyallup.