Tony Hayes is making Classic Eats a Burien classic
Tony Hayes is making Classic Eats a Burien classic
(at the place formerly know as The Mark)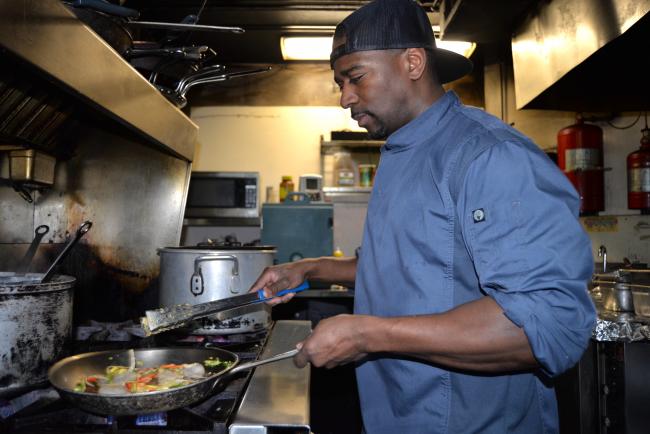 Lindsay Peyton
Wed, 05/10/2017
By Lindsay Peyton
Burien chef Tony Hayes doesn't like to call the diners at his restaurant Classic Eats "customers."
"I call them 'my guests,'" he said. "This is my house, and they're guests in my house. I want them to be comfortable."
Hayes took over as chef and co-owner in December. The restaurant, located at 918 SW 152nd St, was formerly Mark Restaurant and Bar.

Hayes partnered with his father-in-law Jamie Ramos to rebrand and reinvigorate the restaurant in September.
They kept the place running under its original name, while fixing it up and slowly changing the menu. They kept the existing staff, and the former owner Debra George stayed on as manager.
Hayes' vision was for a family restaurant and neighborhood hangout. The space hosts jazz concerts, wine and painting nights and trivia games. There's an outdoor patio for sunny days and a private dining room for parties.
For the menu, Hayes wanted to showcase flavorful dishes and top-notch ingredients.
"Quality is the biggest thing for me," he said. "I want every entrée to come out like a photo. I love to hear 'oohs and ahs.'"
He said the smoked pecan salmon is one of the most popular dishes on the menu. The salmon is lightly smoked, topped with pecans, served over garlic butter sautéed spinach and mashed sweet potatoes.
Hayes plans to change the selection of entrees every six months – but to keep a few fan-favorites on the line-up.
"I want to keep my guests excited," he said. "The guests definitely keep me pumped, and the regulars helped me build my menu. I took all of their feedback."
Originally born in New Orleans, Hayes moved to Burien his junior year of high school and graduated from Highline.
In school, he played football and ran in track – and admits that he thought of himself more of an athlete than a chef, even though he enjoyed cooking from a young age.
"I always played around in the kitchen," he said.
His passion for food was evident regardless of his career. He has held several posts as a lifeguard at a Girl Scout Camp, an ironworker building skyscrapers and a ramp agent at Alaska Airlines.
Hayes' packed lunches looked so good to his co-workers that they would often pay him to make theirs too.
"That's how it all got started," he said.
With the encouragement about his self-taught culinary skills, Hayes eventually decided to make the switch to the restaurant industry. He tried on every hat from delivery to busing tables, serving to bartending.
"I climbed the ladder," he said.
Eventually, he became manager at Azteca, then manager at the Cheesecake Factory in two locations.
When his father-in-law offered to go into business together, Hayes jumped at the opportunity, a decision he does not regret.
"My vision is to grow this," he said. "I want this to be a community restaurant. I want it to be the place where everyone wants to go."
For more information, visit www.classiceatsburien.com.