Eleven Paths documentary follows students through four years of high school; Premiere is Sept. 19
Eleven Paths documentary follows students through four years of high school; Premiere is Sept. 19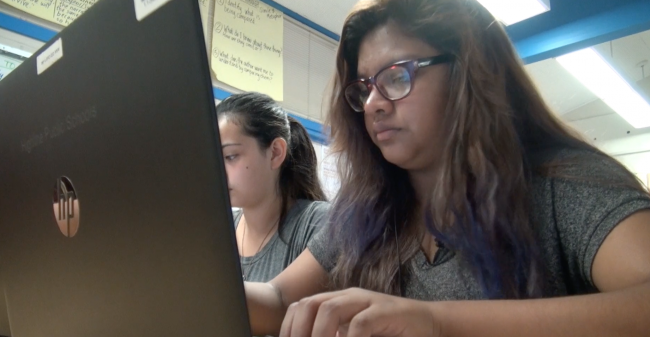 Rick Stevenson
Thu, 09/07/2017
A film documentary, Eleven Paths, that follows 11 Highline students through four years of high school will hold its premiere on Sept. 19 at the Highline Performing Arts Center.

In 2013, Highline set a goal for graduation: at least 19 out of 20 students entering grade nine that year would graduate prepared to choose their future. To track this goal, Highline partnered with award-winning filmmaker Rick Stevenson to document the lives of a diverse group of students from across the district.

This 23-minute film gives you an intimate view into the challenges and triumphs of these 11 students as they navigate high school. Join us on September 19 for a special screening and hear their compelling stories.
"Eleven Paths" Documentary Premiere
Tuesday, September 19
7:00 - 8:00 p.m.
Highline Performing Arts Center
401 S 152nd Street
Burien, WA 98148

Following the viewing, Superintendent Susan Enfield will moderate a panel discussion with filmmaker Rick Stevenson and students featured in the film.

Get your ticket and reserve your seat online. Tickets are free. 

"Eleven Paths" is a co-production of Highline Public Schools and The School of Life Project.  

About Rick Stevenson
Rick Stevenson has produced, written and/or directed twelve feature films and hundreds of hours of television. He has worked with Robert Redford, Hugh Grant, Christopher Plummer, Keifer Sutherland, Meg Ryan, Patrick Dempsey, Jennifer Connelly, Mark Harmon and many others. He has created, hosted, directed, written and produced two television series, LISTEN and Official Best of Fest Presents The Best Films You've Never Seen. He is founder of The School of Life Project, which is now in nine countries and features over 300 kids. He also co-founded thefilmschool with Tom Skerritt and Stewart Stern, and is director of The Prodigy Camp for the 20 most talented young filmmakers in the world. He holds a doctorate from Oxford University, a master's degree from The London School of Economics and a bachelor's degree from Whitman.
11 Paths Documentary film
Rick Stevenson and the Highline School District