Highine Crimes 9-11-17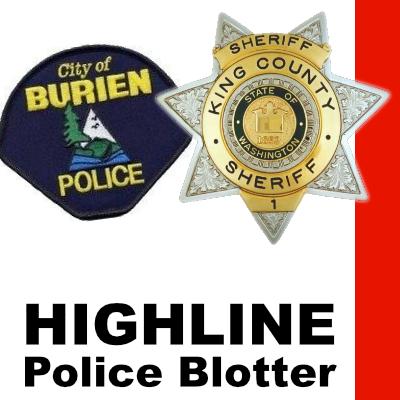 Mon, 09/11/2017
Bicycle thief forces entry into residential garage
A woman residing on the 13200 block of 1st Avenue S.W. went outside on the morning of Mon., Sept. 4 to find the door to her garage had been forced open and her bicycle was missing. 
Baseball field assault
A man was assaulted by three unknown men at a school baseball field on the 1300 block of S.W. 114th Street. They used their hands, feet and a gun to attack him. The crime was reported around 2:30 a.m. on Sat., Sept. 2. 
Rental car busted with narcotics 
Around 6:50 a.m. on Fri., Sept. 1, officers were dispatched to a suspicious and occupied vehicle parked in a private driveway on the 2200 block of S. 116th Street. Narcotics and computers were found in the rental vehicle. 
Attempted vehicle theft at Fred Meyer parking lot
A man went shopping at Fred Meyer, 14399 1st Ave. S., around 8 a.m. on Thurs., Aug. 31. When he returned to his car in the store's parking lot, there was an unknown man inside attempting to steal the vehicle. 
Burglary at Dottie Harper Park
Officers received notice that Dottie Harper Park, 421 S.W. 146th St., was burglarized around 8 a.m. on Wed., Aug. 30. An employee at the park said the suspect broke into the Dottie Harper house and garage overnight by kicking in the garage door, prying open wood shutters and kicking in glass windows. 
Father assaults son with hammer
A man called police before midnight on Tues., Aug. 29 to say that his father had struck him in the head with a hammer. The victim of the assault resides on the 1000 block of S.W. 156th Street.  
Robbed at gunpoint 
A man was robbed at gunpoint near the intersection of S.W. 130th and Ambaum Blvd. around 5 p.m. on Sun., Aug. 27. He said a man took a revolver out and ripped off his gold necklace.