Highline Crimes 10-9-17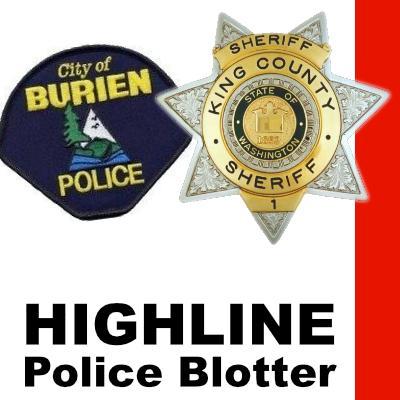 Mon, 10/09/2017
Awakened by delusional guest 
Police were dispatched to a home on the 1400 block of S. 132nd Street around 7 a.m. on Sun., Oct. 1. The caller said a woman was on her front porch trying to get into the house. Officers escorted the woman off the property and said she was delusional and exhibited threatening behavior.  
Assault at Denny's
A suspect was in possession of methamphetamine at Denny's, 14821 1st Avenue S., and fled from officers, assaulting them during their pursuit, around 3 a.m. on Sat., Sept. 30. 
Burglary on S. 118th Street
A man residing in an apartment on the 1800 block of S. 118th Street came home from work around 3 p.m. on Sat., Sept. 30 and found his door wide open and freezer door open. The burglar entered through the front door and also rifled through the victim's closet.
Burglary at cigarette store
The locks were pried open at Tobacco Mart, 1440 Ambaum Blvd. S. The burglary was reported around 6 a.m. on Sat., Sept. 30. 
Indecent exposure
A man exposed himself to children on the way to school. The crime, which occurred near the intersection of S. 120th Street and Military Road, was reported around 9 a.m. on Wed., Sept. 27. 
Attempted tool theft 
An unknown burglar broke into a backyard fence on the 14600 block of 3rd Avenue S.W. and tried to steal from a tool shed. The crime was reported around 4:45 a.m. on Wed., Sept. 27. 
Thief makes clean getaway
An unknown suspect broke into an apartment located on the 11300 block of 26th Avenue around 10 a.m. on Sun., Sept. 24. The burglar moved things around in the residence and took a shower before leaving the scene of the crime. 
Controlled substance violation 
A small amount of methamphetamine was found in a man's front pant pocket, when he was being searched by officers after an incident around 9:30 p.m. on Sat., Sept. 23 on the 15800 block of Ambaum Blvd.