Highline Crimes Week of 12-4-17
Highline Crimes Week of 12-4-17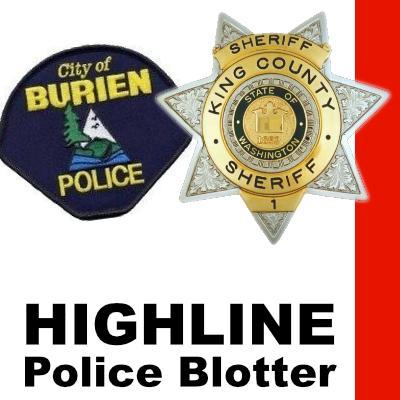 Mon, 12/04/2017
Vacant house burglarized
A vacant home, in the midst of being renovated, in the 2000 block of SW 100 St was burglarized. The crime was reported around 11:40 p.m. on Wednesday, Nov. 22, but it was unclear how old the damage was. Every door was unlocked. Still, there were signs of a forced entry.    
Homeowner upstairs when burglary attempted
Burglars were scared away when they realized that the home located in the 11200 block of 12 Ave S was occupied. They kicked in the rear basement door, but then discovered the homeowner was upstairs. The suspects ran away without taking anything. The crime was reported around 10:30 a.m. on Friday, Nov. 24. 
Attempted business burglary
Suspects damaged a side door and window when trying to break into One Source Chiropractic, 15217 1 Ave S. They used a concrete brick to smash the glass. The crime was reported around 10:40 a.m. on Friday, Nov. 24. 
Controlled substance violation
Officers found a man in possession of heroin, asleep in his vehicle at the Dollar Tree parking lot, 250 SW 152 St around 6:40 p.m. on Friday, Nov. 24. His child was with him in the car. 
Bump in the night
A victim of a burglary said he and his girlfriend heard a "bump in the night" while watching television around midnight on Saturday, Nov. 25. They went outside to investigate and discovered that suspects had attempted to push open their garage door, entered their pickup truck and stole items. The home is located in the 800 block of SW 142 St. 
Sleeper removed from transit center
A subject drank to dangerous levels and fell asleep at the Burien Transit Center, 14900 4 Ave SW, around 9:40 p.m. on Saturday, Nov. 25. Officers carried the sleeping subject away.  
Shoplifter carries narcotics
A shoplifter caught at Walgreens, 14656 Ambaum Blvd S, around 2 a.m. on Sunday Nov. 26, was found in possession of controlled substances. The suspect was booked for a warrant – and trespassed from the store. 
Fraud at fast food joint
Officers arrived at Jack in the Box, 14206 1 Ave S, just before 1 .m. on Monday, Nov. 27 to investigate an attempted fraud. A customer attempted to purchase food with fake money.