Seattle Christian Warrior girls win big over Mt. Rainier
Seattle Christian Warrior girls win big over Mt. Rainier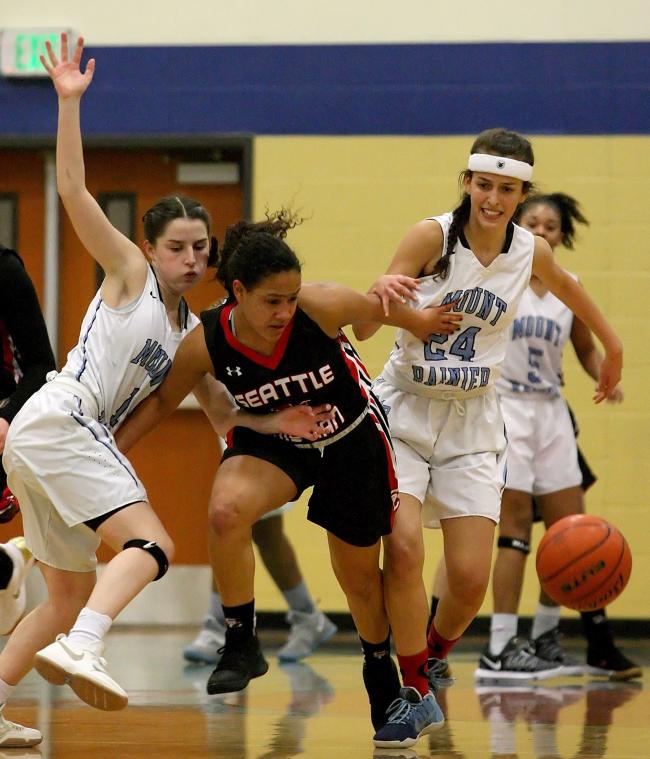 Kurt Howard
Mon, 12/04/2017
BY GERARDO BOLONG
Contributing Writer
Playing hard, playing tough defense and sharing the ball are the keys to this season's edition of Seattle Christian girls basketball.
On Fri., Dec. 1, in Des Moines, the 1A Warriors performed these tasks well in a 76-32 victory against the home standing 4A Mt. Rainier Rams.
"We ran the same offense that we used against Sumner, but this time we made our shots," said first-year head coach Jasen Baskett. "We have girls that will be hard to stop (on offense)."
Defense was also difficult to deal with by the Rams.
With a number of veterans returning from last season's state regional team, Seattle Christian literally ran with Mt. Rainier into a 7-7 tie before the Warrior strengths of rebounding and ball pilfering pushed Seattle Christian into a 27-14 lead after one quarter.
Continuing its domination on offense and defense, SC shut out MR in the second quarter to lead 49-14 en route to leads of up to 45 points.
Once the Warriors opened up a margin of more than 40 points early in the third quarter, a continuously running clock kept the final scoring totals down.
For Mt. Rainier, it was a matter of a loss with the regrouping of its components as the squad retools its playing for league.
"Seattle Christian is a good basketball team," said Ram head coach Keith Wasberg. "There were runs here and runs there. We haven't a lot of varsity experience and weren't able to execute. On the other hand, it was a great opportunity for our players to get more experience under pressure. We're looking for more balance as players step up. We've had trouble guarding the 3-point line, but in the fourth quarter we had better recognition."
Seattle Christian's quick recognition and tough defense created many chances.
"I just played with confidence," said guard Alex Ellis who contributed 27 points, six rebounds, five assists and five steals.
Seri Anderson finished with 23 points and 12 rebounds as Olivia Clark added 17 points, nine rebounds, six assists and four steals. Julia Seibel had six points with 10 rebounds. Emma Baskett notched three points.
Frannie Sablan led the Rams with 10 points. Jaydin Fazio added seven points and four rebounds as Jackie Williamson notched six points.