Highline Crimes; Week of 1-6-18
Highline Crimes; Week of 1-6-18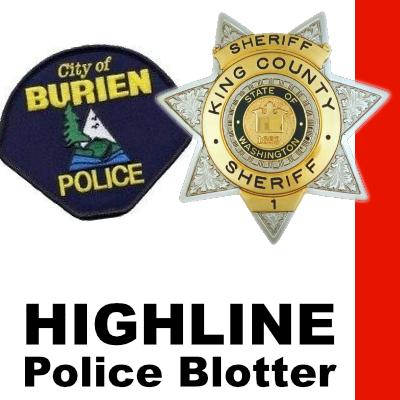 Mon, 01/08/2018
Hit and run
A hit and run between two vehicles occurred around 7 p.m. on Saturday, Dec. 23 at the intersection of S 125 St and Des Moines. The victim was injured, and suspects fled on foot. A K9 unit attempted tracking the suspects but was unable to find them. The unit did recover a pistol from the scene. 
Staff members threatens, assaults hospital staff
A man threatened to kill staff members at Highline Hospital, 16251 Sylvester Rd, around 1:17 p.m. on Friday, Dec. 22. He also assaulted two other hospital employees. 
Sleeping at Safeway
A man was causing a disturbance at Safeway, 138 SW 148 St, around 7:30 p.m. on Friday, Dec. 22. He then fell asleep, drunk in the bathroom. Staff members attempted repeatedly to get him to leave but were unsuccessful. The man was trespassed from the store. 
Trouble at transit station
Around 5:40 p.m. on Friday, Dec. 22, a man was found sleeping and intoxicated on a Metro bus at the Burien Transit Center, 14900 4 Ave SW. He refused to leave the property and was charged with disorderly conduct. 
Weapons stolen during a party
During a party in the 1100 block of SW 166 St, unknown suspects entered the victim's home to steal firearms. The crime was reported around 3:15 p.m. on Friday, Dec. 22.  
Thief takes pipes
A burglar broke into a basement at a home in the 600 block of SW 120 St and stole copper plumbing piping, as well as sheet metal air ducting. The homeowner called to report the crime to police at 10:15 a.m. on Thursday, Dec. 21.
Burglary on Ambaum Blvd
The new manager at an apartment complex located in the 12000 block of Ambaum Blvd S arrived at work to find someone breaking into his office. The suspect had torn down a security camera. The victim reported the crime just before 10 a.m. on Thursday, Dec. 21. 
Grocery shopper's tires slashed
A man was shopping at Fred Meyer, 14300 1 Ave S, around 5:20 p.m. on Wednesday, Dec. 20. When he returned to his car, he discovered that his tires had been slashed.