Duane Sullivan, at home in the kitchen at Anthony's HomePort in Des Moines 
Duane Sullivan, at home in the kitchen at Anthony's HomePort in Des Moines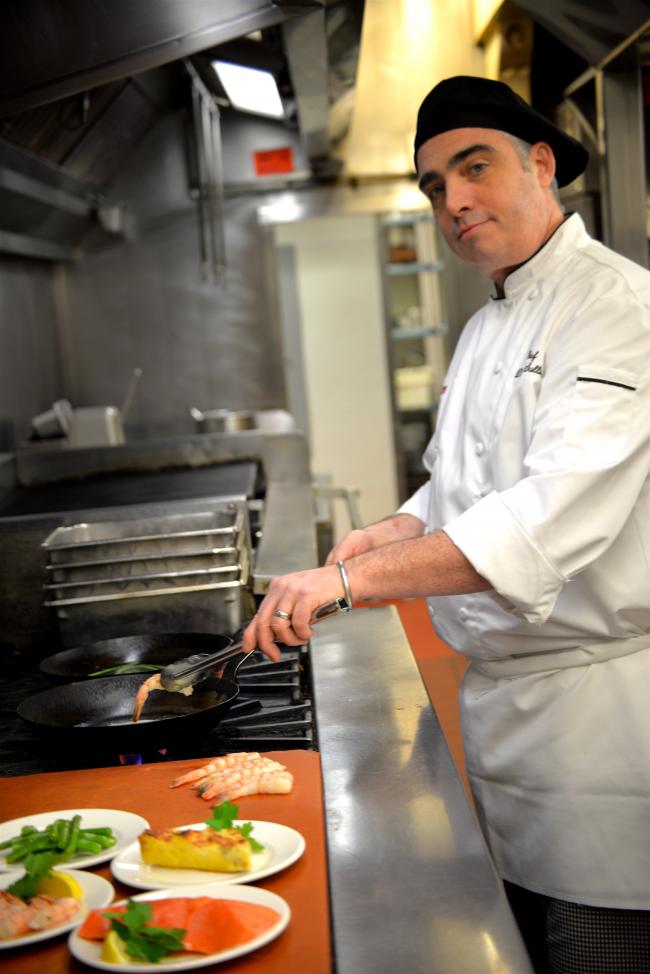 Mon, 02/19/2018
By Lindsay Peyton
Growing up, Duane Sullivan always thought his destiny lay under the hood of a car.
"My whole schooling and direction I was going was toward auto mechanics," he said. 
While he was learning the ins and outs of car engines, he worked in restaurants. 
"One of the kitchen managers took me under his wings, showed me the ropes and basically opened my eyes," Sullivan said. "I developed a passion for cooking."
He decided to change career paths and enrolled in North Seattle College. "The chef there was great, just outstanding," Sullivan said. "He gave me a strong foundation and showed me all the directions I could go."
He worked full-time and took classes at night. "I was always tired, but I had the drive to do it," he said. "And I liked it."
After graduation, Sullivan took a job at a small café, but he had higher aspirations from the get-go. "I just wanted to learn more and expand," he said. "I wanted to see what else was out there."
That's how he stumbled onto the Anthony's brand. He applied for a position in the Kirkland location and was hired. 
"I could tell Anthony's was a little different," he said. "It was very fresh seafood and produce and everyone worked together as a team. It was very organized."
He moved through the ranks, working his way up to executive line cook. Then, when he heard that a spot was open for a sous chef in Des Moines, he decided to sign up. 
"I didn't even know where Des Moines was," he said. "I remember the first time I pulled up. I thought, 'Wow. That's a big restaurant.'"
The two-story establishment is located at 421 South 227th St, poised right next to the marina. There are two restaurants in one building. Downstairs is the more casual Des Moines Oyster Bar and Grill, while upstairs is Anthony's HomePort Des Moines, offering a fine dining experience. 
Sullivan was hooked. He worked downstairs at first, then upstairs. Now he oversees both restaurants in his role as executive chef.
Anthony's has become a second home for Sullivan. He even met his wife Kristen at the restaurant. Now, two children, four grandchildren and 28 years later, he can't imagine ever leaving. 
Sullivan especially enjoys mentoring new chefs and unlocking their potential. 
And he still enjoys the fast pace of the kitchen. "It's kind of like controlled chaos," he said. "I thrive on it. You have to be very organized, but I love it. I love what I do. Every day is a challenge."