Ram girls tennis edges out Chargers
Ram girls tennis edges out Chargers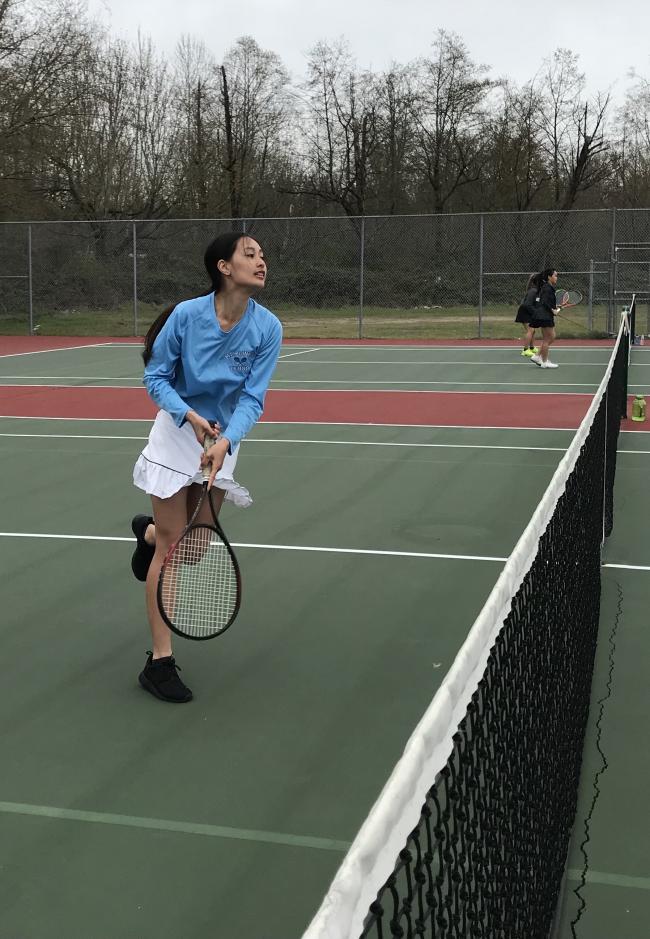 Tue, 04/03/2018
By Gerardo Bolong
CONTRIBUTING WRITER

Under lightly clouding conditions in Des Moines, the Mt. Rainier girls tennis team earned a 3-2 4A North Puget Sound League - Cascade victory against visiting Kentridge on Tues., April 3.
MRHS finished the first half of the season at 2-5 in division and 3-5 overall. Kentridge is at 1-5 and 1-5, respectively.
"It worked out the way we hoped it would," Ram head coach Tim Lee observed. "The No. 1 doubles team showed resiliency in avoiding a third set and the tie-breaker fell into place.Our team has lots of inexperience. Each time they play they get better and more confident. We hope to flip some of the losses. Scores like 4-1 don't show the entire composition of the matches. A few points at certain key spots might have shifted the dynamics."
First up on the completed match list was the Rams' Sophia Antich who took advantage of her opponent's short returns of serve in a 6-1, 6-1, No. 1 singles defeat of Claire Andréski.
"I don't really like to stay at net, but it was there," she said.
Allison Tran and Catherine Yeh of the Chargers from Kentridge notched the matches at 1-1 with a 6-0, 6-2, win at No. 3 doubles against Brooke Buxton and Ashley Vo.
In No. 2 singles, lefty Alanna Kaiphanliam of the Rams played strongly to defeat Anaya Isabel, 6-3, 6-2, to bring Mt. Rainier near the cusp of victory.
"I hit shots to the corner," she said. "I took the short balls and hit them deep."
No. 1 doubles settled the issue in favor of Mt. Rainier.
After controlling the first set at 6-2, the Ram duo of Hayley Camp and Angelina Dang trailed 6-5 in the second set before holding serve in grueling action. The dynamic duo recovered its momentum to move ahead quickly n a 7-1 tie-breaker win.
"We had unforced errors in the second set, but then started hitting it in," Camp said. "We had more consistency."
Dang agreed.
"We're consistently inconsistent," said Dang.
In the curtain ringer, Linda Pham and Maritza Le rebounded to show better shot control in the second set, but still lost to Allison Tran and Catherine Yeh, 6-1, 6-4, at No. 2 doubles.