Highline Community Calendar Week of 4-16-18
Highline Community Calendar Week of 4-16-18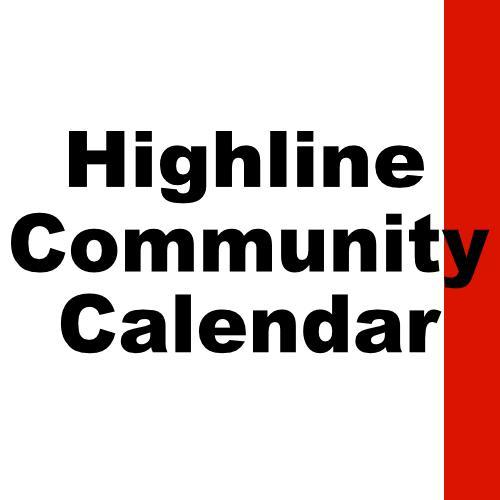 Mon, 04/16/2018
TO GET YOUR NON-PROFIT EVENT LISTED HERE FREE SEND IT TO CALENDAR@ROBINSONNEWS.COM
SPRING FLING 
Grace Lutheran Church 
22975 24th Ave. S. 
Thurs., April 19, 11:30 a.m. The Des Moines Auxiliary of Seattle Children's Hospital announces its annual Spring Fashion Show and Luncheon. The theme for this year is "Spring Fling." The donation is $35.00 and the proceeds will go toward the uncompensated care fund of Seattle Children's. For more information and/or to reserve tickets please call 206.878.1239. 
DAYSTAR TOASTMASTERS 
Daystar Village, Bldg. 2 
2615 S.W. Barton St. 
Sat., April 21, 10–11 a.m. Come as a guest to experience the safe, supportive atmosphere in which you can grow your communication and leadership skills. Improve your ability to think-on-your-feet and become more comfortable speaking to groups. Arrive 5 to 10 minutes early for orientation. For more information visit daystarclub.toastmastersclubs.org or call Bill at 206.932.6706. 
EARTH DAY AT  SALTWATER STATE PARK 
Saltwater State Park 
25205 8th Pl. S. 
Sun., April 22, 9:30 a.m. Come join us for some fun activities sponsored by the non-profit group Friends of Saltwater Park, WA State Parks and local businesses (Lowe's, Port of Seattle). Free Discover Pass Day and free activities. For more info visit www.facebook.com/SWSPDes MoinesWA/. 
SW SCHOOL RETIREES MEETING  
Prince of Peace Lutheran Church. 
19030 8th Ave. S. 
Mon., April 23, 11:30 a.m., donation lunch will be served at 11:45 a.m. The program, "Gardens of the Pacific Northwest," will be presented by Karen Adlum, a retired teacher with a degree in architectural landscaping. She will bring the art of gardening and caring for houseplants to life!  Wear your casual clothes for this event as we will be potting a plant or two as part of our program.  If you are  bringing a guest please call Keitha at 253.528 0305.  
SPRING BAZAAR  
Resurrection Lutheran Church  
134 S. 206th St. 
Sat., May 5, 9 a.m.–3 p.m. Annual Spring Bazaar benefiting Team Swish, a local 6th grade boys Basketball Team. Over 40 vendors and crafters. The boys will be there selling food and table items! For more information, please call 206.231.9054.  
—ONGOING— 
DES MOINES LIBRARY 
MARCH 2018 EVENTS 
Des Moines Library 
21620 11th Avenue S 
206.824.6066 
CHILDREN & FAMILIES 
Infant & Young Toddler Story Times 
Mondays, 10 a.m. Newborn to 2 1/2 with adult. Stories, songs and fun! 
BURIEN DRINKING LIBERALLY 
Angelo's Restaurant 
601 S.W. 153rd St. 
Fourth Thurs. of the month any time from 6:30 p.m. onward in the DaVinci room. An informal, inclusive progressive social group. Raise your spirits while you raise your glass, and share ideas while you share a pitcher. Drinking Liberally gives like-minded, left-leaning individuals a place to talk politics. You don't need to be a policy expert—just come and learn from peers, trade jokes, vent frustration and hang out in an environment where it's not taboo to talk politics. 
ADULT PING PONG 
Burien Community Center 
14600 - 6th Ave. S.W. 
Every Tues. and Fri., 11 a.m.–2:30 p.m. You are invited to play pong for fun and exercise, All skill levels are welcome. 
LIVING ORGANIZED 
Southminster Presbyterian Church 
19834 8th Ave. S. 
Every Wed., 10:30 a.m.–12 p.m. We are a group of adults who have been challenged by disorganization and clutter. We are not affiliated with any denomination or institution. There are no dues or fees to attend our meetings. We collaborate with each other to develop solutions that will help us live with dignity. Because all of our members have had a problem with disorganization, there is no shame in attending our meeting. Our learning material includes books, movies, newspaper articles, personal stories, active listening and discussion. We offer: non-judgmental support, an opportunity to express your own frustration, the courage to declutter, acceptance of who you are. For more information contact Elizabeth at 206.248.2922. 
Water District Board Meeting 
King County Water District Office 
12606 1st Ave. S. 
First and third Wed. of each month, 10 a.m. The Board of Commissioners of King County Water District 20 meets the first and third Wed.of each month. Call 206.243.3990 for more info. 
Join the Burien Lions  
Angelo's Restaurant 
601 S.W. 153rd St. 
Every Wed., Noon–1 p.m. Join us and help reach out to those in need in our community. Come participate in our community projects helping make Burien a better place for all. On the first Wed. of each month, we hold an evening meeting; while the weather is warm—from now through September—at 6 p.m. at the 913 Restaurant in the outdoor area, 913 S.W. 152nd St. For more information call 206.433.0715. 
KCFD #2 BOARD MEETING 
Station 28 
900 S.W. 146th St. 
Tues., April 3, 5 p.m. The public is welcome to a special meeting of the Board of Commissioners of King County Fire District #2.
TO GET YOUR NON-PROFIT EVENT LISTED HERE FREE SEND IT TO CALENDAR@ROBINSONNEWS.COM