Highline Crimes week of 4-16-18
Highline Crimes week of 4-16-18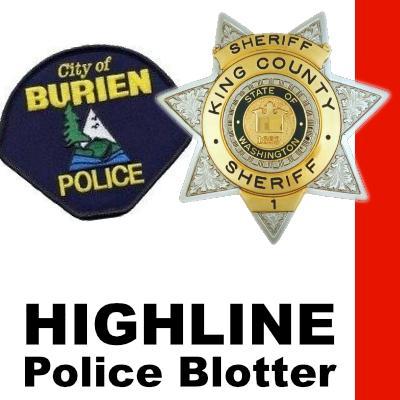 Mon, 04/16/2018
Suspect arrested for shooting of two teens 
Detectives are continuing to investigate the shooting of two teenagers on Mon., April 9. The crime occurred around 5:40 p.m. at Angle Lake Park, located in the 19500 block of International Blvd. S. in SeaTac. Multiple 911 callers reported seeing a man shooting a gun towards a vehicle. When officers arrived, they located a number of shell casings in the park. Witnesses reported seeing the man involved flee to a vehicle near the boat launch. Police were able to stop the man, who was carrying a handgun. About an hour after the initial call, a local hospital reported that two victims, age 17 and 19, had just arrived with gunshot wounds. Both sustained non-life threatening injuries. Detectives believe the shooting to be gang related. A house located across the lake from where the shooting occurred was struck by a stray bullet. No one was injured in the home. 
Man with warrant caught with meth
Around 6 p.m. on Tues., March 20, a man was picked up and arrested for a felony warrant in the 400 block of S.W. 152nd Street. He had a small amount of meth tucked inside his baseball hat.  
Man shot while walking
A man was shot in his right leg, after being attacked by several suspects for unknown reasons. He was walking on sidewalk on Ambaum Blvd. around 5:30 p.m. on Mon., March 19. The victim was transported to Harborview Medical for treatment. 
Robbery of chain grocery
At 8:50 p.m. on Mon., March 19, a man said that he had a gun and robbed a grocery store in the 11800 block of Glendale Way S. 
Liquor store robbed
A suspect said he had a gun and robbed a liquor store in the 1800 block of S. 120 Street. The crime was reported just before 9 p.m. on Sun., March 18. 
Cinderella thief
A suspect in a burglary left behind a single glove at the victim's house, located in the 15300 block of 4th Avenue S.W. The crime was reported around 2 p.m. on Sun., March 18. 
Car stolen with keys in the ignition
A man residing in the 500 block of S.W. 132nd Street, left his car running with the keys in the ignition and doors unlocked. An unknown suspect took advantage of the opportunity and drove the car away. The crime was reported at 7:20 a.m. on Tues., March 13.