Lancer girls tennis edges out Conks
Lancer girls tennis edges out Conks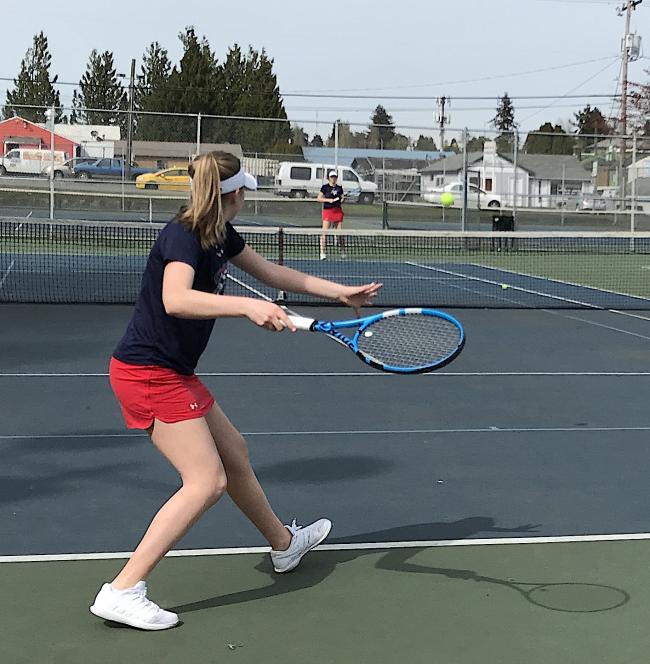 Fri, 04/20/2018
By Gerardo Bolong
CONTRIBUTING WRITER

WHITE CENTER - Left handed Grace Grotz captured No. 2 singles to clinch a 3-2 NPSL 4A girls tennis victory for Cascade division leader Kennedy Catholic against second place Kentwood at Steve Cox Memorial Park on Thurs., April 19.
The Lancers remained unbeaten in the division, moving to 10-0 and 10-1 overall. The visiting Conquerors fell to 8-3 division and 8-3 overall.
With her team leading 2-1 in matches, the junior Kennedy Catholic athlete engaged in long base line rallies with Chiamaka Okafor before taking the first 6-2. More of the same type of play was featured in the second set until Grotz broke serve to finish off a 6-1 triumph.
"I had good stamina and patience," said Grotz. "She had good rallies."
Kennedy Catholic nearly pulled off a rally to victory in the last match of the glorious weather day at No. 3 doubles.
Keenjal Sangani and Ana Okafor owned the net to grab a 6-1 first set win for the Conks, but the Lancer tandem of Hannah Rasmussen and Elena Stoll made some adjustments to reach a 4-4 second set standoff. Breaking their opponents' serve, the Lancers then held serve to force a super tie-breaker third set.
Poaching well at net, the Conks pulled away to a 5-1 advantage in the tie-breaker, but Rasmussen and Stoll rejuvenated themselves again to draw within 5-4. Kentwood returned the favor to lead 8-4 only to have the resilient Kennedy Catholic duo fire back to trail 8-7.
At this point, the Conquerors won a long rally and closed the match out on the next point.
On the way to the lead and eventual win, Kennedy Catholic opened up with the No. 1 doubles pairing of Lily Olson and Lauren Jergens controlling the entire court for a 6-0, 6-0, victory against Hallie Systma and Cassandra Le.
"Normally, we stay back most of the time, but we had our best volleys and serves," said Olson.
Jergens agreed.
"We were able to work on our poaching and volleying," she added.
Top divisional player Erika Ito squared the proceedings for Kentwood with a 6-0, 6-1, victory against hard working Jaclyn Seifert.
In No. 2 doubles, the Lancer tandem of Annalise Nguyen and Heidi Myrick played strongly in a 6-2, 6-1, defeat of Annie Livengood and Anna Cortines to set the situation for the Grotz match.
"I focused on my style," said Myrick. "I was lobbing, volleying, consistent and confident."
Kentwood head coach Ingrid Bakke knew her players worked hard against a tough foe.
"Kennedy was too good," said Conqueror head coach Ingrid Bakke. "Their victory was well deserved."
KW lost a previous encounter to KC 4-1 with a pair of matches going into third sets as Kennedy's most difficult competitors.
"Kentwood is one of the strongest teams in the league," acknowledged Kennedy Catholic head coach Viet Tran. "We tried a lot and practiced hard. These were good matches. I'm happy to see my students play well. We deserved to win."