Decatur overwhelms Mt. Rainier Rams in slugfest
Decatur overwhelms Mt. Rainier Rams in slugfest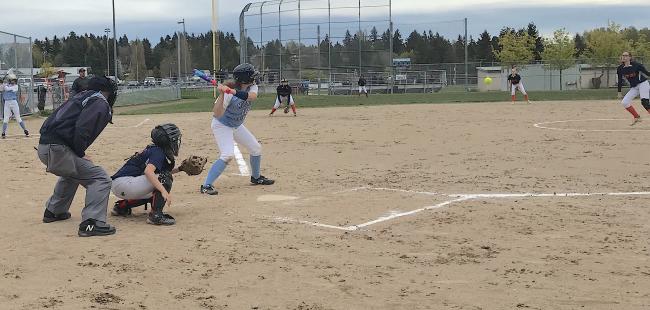 Sat, 04/21/2018
By Gerardo Bolong
CONTRIBUTING WRITER

Led by the outstanding fielding and hitting of senior shortstop Sydney Victor, the Decatur softball team overwhelmed the home team Mt. Rainier Rams 19-8 in a non-division NPSL 4A match up.
The Ram overall record fell to 4-8 while its Cascade division record remained at 3-5 as the stretch run for play off berths ensued. Decatur of Federal Way improved to 5-6 and stood at 1-6 in the Olympic division. 
Under cloudy skies in Des Moines, Mt. Rainier fell behind the eight-ball in the first inning. Victor was hit by a pitch and later stole second base. Madi Combs singled Victor home to ignite and eight-run Gator surge that was capped by Victor's deep blast, two-run homer over the left centerfield fence.
In the second inning, Decatur tacked on three additional tallies to lead 11-0, but the Rams responded with runs in the bottom of the frame. Alyssa Debiase's one-out single was followed by a Carley Bonds chip shot single into left field. Up to the plate stepped Bryana Jenkins to deliver a single to left field for one run plus another tally when the left fielder allowed the ball to get through. Nicole Pham then grounded out to culminate the three-run rally.
The Rams drew even closer in the fifth inning after the Gators added a fourth inning run. An infield three-base throwing error  followed by Molly McCabe's single and a wild pitch accounted for two runs. Later in the inning, Kelsea Grettenburg's run-scoring double plus a Bonds sacrifice bunt each accounted for a run to draw Mt. Rainier within 12-7. 
Kyla Flynn's run-scoring double brought the score to 12-8 after five innings.
Decatur doused any thoughts of a Ram final comeback by firing off two runs in the sixth inning and a five-spot in the seventh inning highlighted by Victor's three-run homer over the centerfield fence.
Victor was a human vacuum cleaner at shortstop as well as closing out the game on the mound with a scoreless seventh inning featuring a trio of strike outs against four batters faced. Jessica Karmell batted 3-for-4 including a triple and RBI. Raiven Alexander-Brown was 3-for-5 with four RBI.
For Mt. Rainier, Jenkins was 2-for-4.
"Our team fought back well," said Ram head coach Shawn Metzger. "We're young and getting better every game."