Performers needed for HERE // HEAR at Burien Actors Theatre
Performers needed for HERE // HEAR at Burien Actors Theatre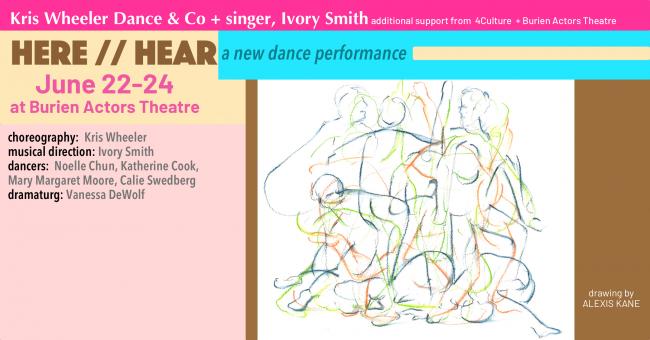 Sun, 05/13/2018
Want to be in a dance performance -- but have no performance background?
Be a part of the movement chorus in the new dance performance HERE // HEAR from June 22 through 24, presented by Burien Actors Theatre (BAT) and choreographed by Kris Wheeler.
HERE //HEAR is looking for people of various ages from late teens to elders to join the movement chorus, which will provide the energetic and visual context for the dance performance. The movement chorus choreography involves natural, pedestrian movement: standing, walking, sitting, and the like. Simple vocalizing is also included: droning, whispering, chattering sounds. Performance background is not necessary. 
Rehearsal is required on Saturdays from 12:30 to 3:30 p.m. as follows: May 19 and 26, and June 2 and 9 at Yaw Theater in Georgetown, and June 16 at Burien Actors Theater. Attendance is also required at the following at BAT: evening tech and dress rehearsals on June 20 and 21 from 6 to 11 p.m., and performances June 22 at 8 p.m., June 23 at 8 p.m. and June 24 at 2 p.m., with performers called at 6 for warm-ups.
Yaw Theater is located at 6520 5th Ave. S. in Seattle's Georgetown neighborhood. Burien Actors Theatre is located at 14501 4th Ave S.W. in Burien.
For more information:  https://www.facebook.com/kriswheelerdance/ or https://www.hatchfund.org/project/here_here. 
​Contact Kris Wheeler if interested at kriswheeler2@gmail.com​.
"HERE // HEAR"
With movement chorus and live singing, HERE // HEAR is designed to be an immersive experience into sounds that become music and movement impulses that become dance. 
HERE // HEAR aims to activate the audience's own states of listening and seeing. HERE // HEAR is a celebration of moving bodies & moving voices, stillness, silence, sound, and attentive response to change.   
Director/choreographer Kris Wheeler was a soloist in the 1970s and 1980s with Seattle's American Contemporary Dance Company (ACDC, directed by the legendary Joan Skinner), and Robert Davidson's Aerial Ensemble. Kris taught contemporary dance, improvisation and composition, including Contact Improvisation, around the United States, in Europe and on the faculty of the University of Washington's dance program. She trained in clinical psychology, and then at 50, returned to the studio to continue to make dance. Over the last three years Wheeler has been working with dancers in the exploration of specific improvisational dance practices. This work has become HERE // HEAR.   
Singer Ivory Smith is a Seat­tle-based com­poser, sound designer, pro­ducer and teacher. Ivory Smith has been musi­cal direc­tor or co-director for sev­eral acclaimed projects includ­ing Foot in Mouth, Lingo Productions and Ivory in Ice World. Her work has been show­cased at Bumbershoot, On the Boards and A Contemporary Theatre. She grew up study­ing piano, attended Cornish College of the Arts and grad­u­ated from Evergreen State College with a BA in Audio Engi­neer­ing and Non-Profit Busi­ness Man­age­ment. The breadth of her pro­fes­sional work is far reach­ing — from opera and jazz to build­ing and pro­gram­ming her own elec­tronic instru­ments. 
Featured dancers are Noelle Chun, Katherine Cook, Mary Margaret Moore, Calie Swedberg and Kris Wheeler.