Highline Crimes week of 5-14-18
Highline Crimes week of 5-14-18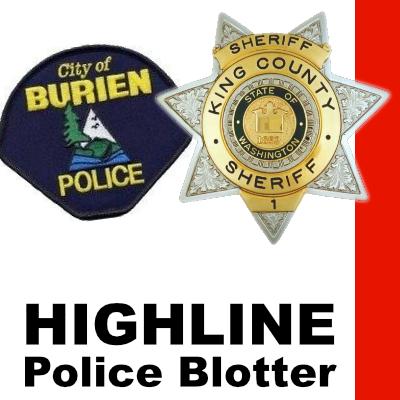 Mon, 05/14/2018
Homicide investigation underway in SeaTac
A 20-year-old man died from injuries sustained in a shooting on Sat., May 5. Officers discovered the victim around 3:45 a.m. in a parked vehicle in the 17100 block of Military Road S. He was transported by medics to Harborview Hospital, where he died. A K9 track was conducted for the suspect but no one was located. King County major crimes is handing this homicide investigation and searching for witnesses that have any information the incident. Call the King County Sheriff's Office at 206.296.3311 with any information.
Stolen sporting goods
Shoplifters took a cart full of sporting goods from Big 5, located at 125 S.W. 148th. The stolen merchandise totaled $200. The crime was reported at 7:50 p.m. on Sat., April 21.
Weed stolen in residential burglary
Suspects broke into a home located in the 1200 block of S.W. 152nd Street and took a bong, weed and fake earrings from the table inside. The crime was reported on Fri., April 20.
Residential burglary on S.W. 137th Street
Around 5 p.m. on Tues., May 1, officers received a call about a burglary at an apartment located in the 1200 block of S.W. 137 Street. The suspect stolen a phone, jewelry and a debit card.
Theft at Burger King
A woman was eating at Burger King, 14893 4th Ave. S.W., when someone stole her pill box from her backpack. She called officers to report the crime at 11:45 a.m. on Mon., April 23.
Fraud at gas station
Officers received a call at 7:40 p.m. on Tues., April 24 from the Shell Gas station located at 17956 1st Ave. S., after a suspect used a counterfeit $50 bill to pay for fuel.
Controlled substance violation
A man was booked into jail around 11 p.m. on Tues., April 24, after he tried to run away from investigators. He was found with heroin in his pants.
Stolen from unlocked car
A man took a wallet out of an open car at Starbucks, located at the intersection of S.W. 148th St. and Ambaum Blvd. around 2:50 p.m. on Wed., April 25.