Highline Crimes week of 6-4-18
Highline Crimes week of 6-4-18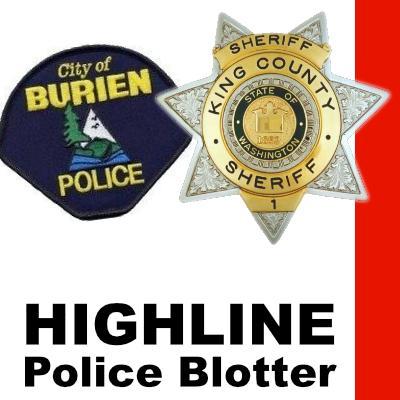 Mon, 06/04/2018
Sex offender violation
A woman who was in a routine traffic stop, in the 15000 block of 1 Ave S, around 7 p.m. on Tuesday, May 15 was found to be in violation of a sex offender registration requirement.
Illegal discharge of firearm
An unknown suspect shot at a victim's vehicle, while it was on a roadway, near the intersection of SW 116 St. and 12 Ave SW. The crime was reported around 10 p.m. on Tuesday, May 15.
Burglar came in through the window
A burglar entered an apartment, located in the 100 block of S 174 St, by climbing into a window, around 10:30 p.m. on Tuesday, May 15. The suspect was wearing gloves.
Ran away with a ring
Around 2 p.m. on Wednesday, May 16, an unknown suspect entered Fred Meyer, 14300 1 Ave S, and asked to see a ring from the display case. An employee took the piece of jewelry out to show the suspect, who ran out the door with the ring.
Burglary on S. 140th St.
Unknown suspects forced their way into a home located in the 700 block of S. 140 St. The owner said an old jewelry box, containing a couple of pieces of inexpensive jewelry was missing. The owner reported the crime around 8 p.m. on Wednesday, May 16. Prints were taken and placed into evidence.
Trespassers caught with heroin pipes
Trespassers at Motel 6, 16500 International Blvd, were found to have warrants and were carrying drug paraphernalia. They were arrested around 2:15 a.m. on Thursday, May 17.
Obstructing an officer
Police arrived at Red Roof, 16838 International, around 10 p.m. on May 21 to investigate a call about domestic disturbance. When police saw the man attacking a woman, they tried to stop him. The suspect then started fighting a police officer. The man was arrested for obstructing an officer.
Burglary on S. 156 St.
Clothing, a television and documents were stolen from an apartment located in the 400 block of S. 156 St. The crime was reported around 8 p.m. on Friday, May 25.