Review: HERE//HEAR, a new dance performance at Burien Actors Theatre
Review: HERE//HEAR, a new dance performance at Burien Actors Theatre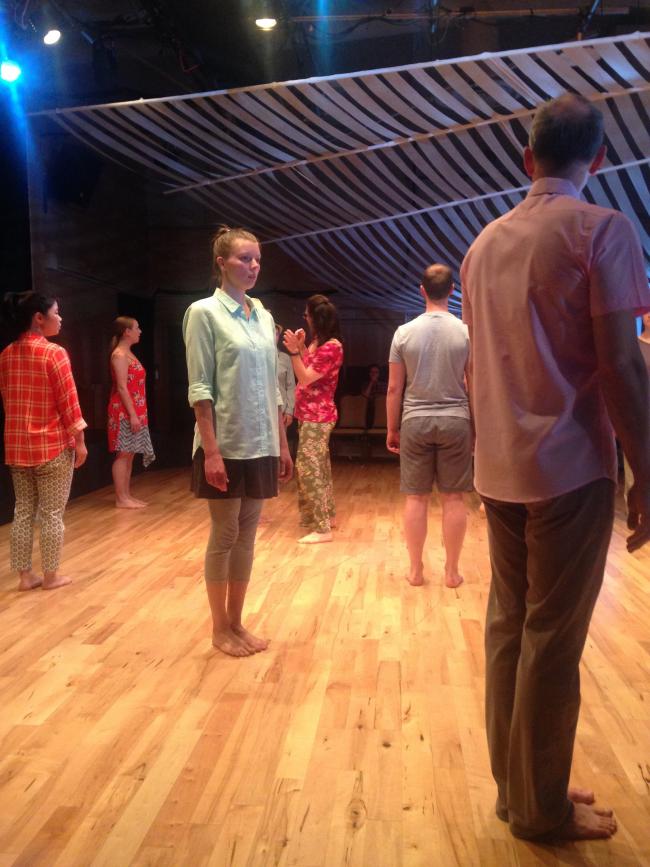 Fri, 06/22/2018
In the program for the dance performance HEAR//HERE choreographed by Kris Wheeler, a note from Burien Actors Theatre admits to some hesitation at this departure from its usual offerings. 
"We knew little about dance and were struggling to wrap our brains around the concept Kris was describing . . ." the message reads. "However, Kris has impressive dance and choreography credentials, and her enthusiasm was contagious."
A little reluctance is understandable. The performance is different. At first, I struggled a bit to identify the format, the tenants of dance that I knew. Instead, it seemed that the dancers were speaking to each other, improvising a fluid language of movement. 
I realized that perhaps creating something unfamiliar was the point. 
The theatre itself was transformed for the production. The piece is staged on the auditorium floor, mainly, and just bits take place on the stage. 
Walking in the newly created space within the theatre gives the audience member pause. It feels like entering a chapel, a sacred place. A low hum emanates from a few cast members on the side of the entrance. 
Slowly, the performers enter the room. More and more people come into the center of the floor. An ethereal sound is created, as they all start to chime in. It's part church choir warming up, part monks chanting "Om." It reminded me of an organ's low melodies. 
At some points the sound is loud, aggressive and guttural. At other times, it's angelic, quietly wafting in the space. 
Dancers weave through the crowd, while performers stand mostly still. Sometimes, they join together. Sometimes, they move alone. They make noises, sing, chant, but not in words. 
Part of the fun of the show is watching the performers who are taking in what the other dancers are doing. Their interest in each other and reaction to their dances is enthralling. 
The dancers' movements evoke birds, nature, waves, water and air. The sounds sometimes reminded me of the cacophony of a jungle or a forest in the evening. 
There are no acts, sets or numbers, no breaks in the performance. Instead, it's just constant motion.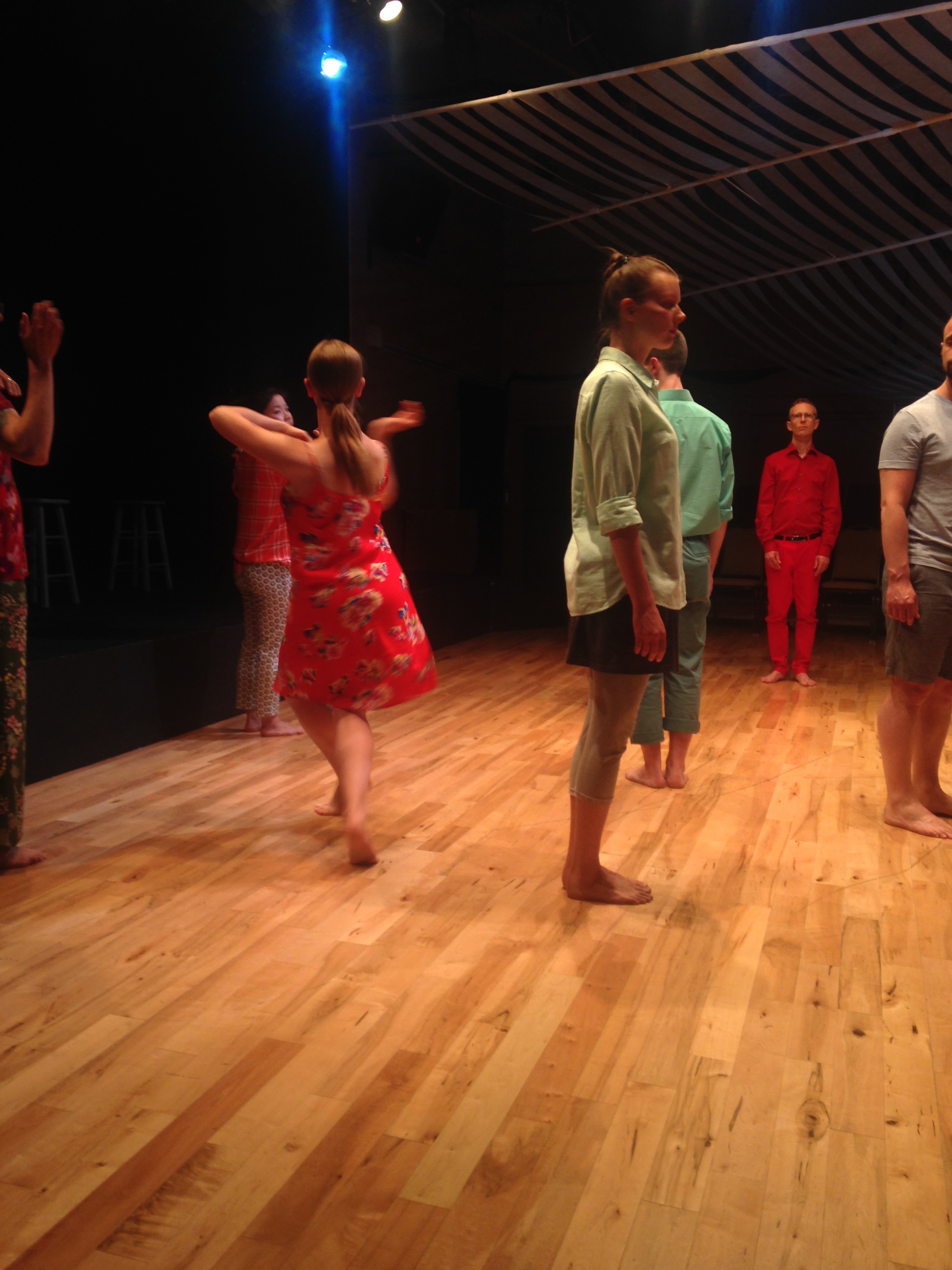 Wheeler explains in the program that the piece begins with metaphorically listening to the body, which has its own language. The piece is about celebrating what is already here, the moment itself, the impulse to dance and create sound. 
I felt that the piece could just as easily be classified as performance art or a sound piece. The show might not appeal to the typical theatre-goer but it will be a treat to anyone who enjoys unique performance art. 
Take a chance on an evening of contemporary dance, let your mind wander. Meditate, be present and go on a journey at Burien Actors Theatre. 
But go soon, because the show is one-weekend-only. 
Performances are set for 8 p.m. on Friday, June 22 and Saturday, June 23, as well as 2 p.m. on Sunday, June 24. Burien Actors Theatre is located at 14501 4th Ave. S.W. 
Ticket prices $20, $17 for seniors and $10 for students.
The dance ensemble includes Noelle Chun, Katherine Cooke, Mary Margaret Moore, Calie Swedberg and Kris Wheeler. Singers include Scott Adams, Jeppa Hall, Ivory Smith and Christian Stranne. 
The movement and vocal chorus is comprised of  Emily Batlan, Shelley Brittingham, Michael Clawson, Margo Ende, Consuelo Gonzalez, Lauren Harrison, Nikolai Lesnikov, Alisa Popova, Jennifer Olszewski, Hendri Walujo and Sophia Wheelwright. 
Kris Wheeler also serves as artistic director. Ivory Smith is music director and Vanessa DeWolf, dramaturg, assistant and stage manager. 
Corrie Befort is set designer. Karina Campbell, Hannah Cavallao, Jessica Roxanne Jones, Catriona Urquhart and Sophia Wheelwright constructed the set. 
Marnie Cumings is in charge of lighting design, and Trevor Cushman served as lighting board operator. The pair joined Jessica Roxanne Jones as electricians. 
Rachel Ravitch serves as costume consultant and Vanessa DeWolf, in costume assemblage. 
For more information, visit www.burienactorstheatre.org.