Puget Sound Baseball League announces 2019 tryout dates
Puget Sound Baseball League announces 2019 tryout dates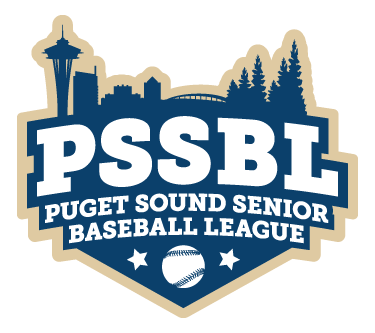 Mon, 03/11/2019
The non-profit Puget Sound Senior Baseball League (PSSBL), one of the largest amateur adult baseball leagues in the U.S., will have open tryouts for all baseball players, age 19 and over, during the course of four weekends in March.  The PSSBL is comprised of 1,100 players forming 72 teams in 9 different divisions. 
The divisions are organized based on age and skill level, ranging from competitive to recreational.  Formed in 1989, this year marks the PSSBL's 31st season of operation. 
The 2019 tryouts will be held at Interlake High School in Bellevue on Sunday, March 10th, Sunday, March 17th at Russell Road Park in Kent, Saturday, March 23rd at Bellevue College, and Sunday, March 31st back at Interlake High School.  Tryouts are free to attend.
For more information including start times and online registration, tryout players and all interested parties are encouraged to view the PSSBL web site at https://pssbl.com or call 425-644-1901. 
Three PSSBL-based teams won national championships last fall.  The Puget Sound Reds took the 35 & Over title at the MSBL World Series in Phoenix.  Both the 60 & Over and 70 & Over versions of the Washington Titans won their respective divisions at the Roy Hobbs World Series in Florida.
There are a number of ex-minor leaguers and college players in the PSSBL – even a former Seattle Mariner, but there's also plenty of room in recreational divisions for players who haven't picked up a baseball since Little League.
The PSSBL is well known for donating money, materials, and labor to youth and school baseball organizations around the Sound as well as other charities.  This season we are assisting Thomas Jefferson High School, Bellevue College, Northwest Washington Baseball League, and the Wounded Warriors Project.
Comments
Years ago when I lived on Bainbridge Island I fell in love with the game of baseball and played little league and what we called Babe Ruth league until 9th grade, when I decided to play a year of high school football. After that I kept to basketball and soccer and track and field at the Christian high school I was attending. After high school, I didn't competitively play sports with the exception of 1 year of college track and field and the occasional pick up football or basketball game. Now that I'm married and have kids, I've gotten the itch to really get back into the swing if things-if you pardon the pun. The smell of the grass, the team comradery, and the crack of the bat. My dream, at least once, is try out for minor or major league baseball. I would love to find out when the next tryouts are? I would love to tell my 2 sons what I did.
My name is Douglas and I look forward to finding out more about this process. Thank you.
Douglas Hein
425-219-6182
Add new comment