Nick is a great name for a barber
Nick is a great name for a barber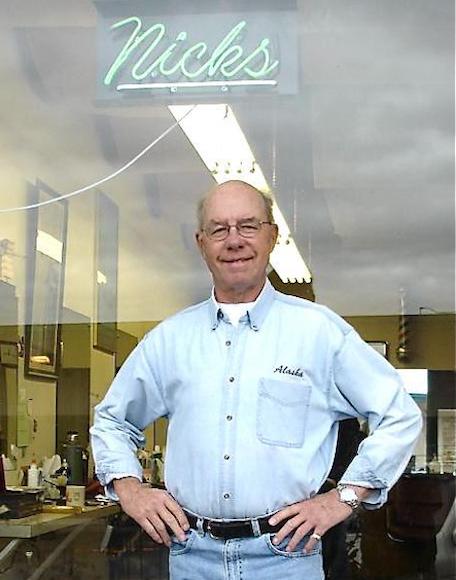 Tim Robinson
Tue, 03/12/2019
By Tim Robinson
A haircut is a pretty simple but very personal thing. Many of us have a regular barber or salon we visit every six weeks or so. We know and trust our attendant cutters, our shapers and colorers. We've been doing it for years. Some of us will need to make a change. The extraordinary talents of Gary Nickell of Nick's Barbershop on 6th Avenue SW in Burien have come to an end. Gary retired in December after 57 years behind the chair.
The long time Normandy Park resident has trimmed crew cuts for the football team jocks in the 60's, shoulder length tresses in the disco age and a whole variety of different cuts from the 80's until now. 
Born in Lind, Wa, about 100 miles southwest of Spokane, Gary followed his grandad and father into the hair cutting business. He graduated from barber school in 1959 while also attending WSU. One of his classmates in Pullman would become famed KVI radio personality (and later client) Bob Hardwick.
Gary does not name drop but he should. He's cut the locks of a few heads of state like state rep and one time King County councilman Paul Barden and former King County Executive Ed Munro. He was the personal barber of this newspaper's publisher emeritus Jerry Robinson. Not traveling far for a cut, essentially across 6th SW, was Sal's Deli owner Jim Hughes. Gary's clients also included district judges Paul Bonnell and Richard Thompson. Gary never said it helped him get out of a speeding ticket. 
Known as "Nick" by nearly everyone he's met, Gary started trimming hair in a shop next to Marketime Grocery on Roxbury in White Center. It was 1962. The Seattle World's Fair was ramping up. Johnny Pesky was managing the Seattle Rainiers. A loaf of bread was .22 cents at Marketime and eggs were .54 cents a dozen. Hair cuts were two dollars. That would change dramatically.
Gary made an important decision early in his career. He hired a visiting barber named Heinz Mittelstadt soon after opening his shop in White Center. Heinz suggested razor cutting, shampooing and blow drying before it became popular. He wanted to charge $6, an unheard of price.
Heinz wanted to work by appointment only. Gary set him up with a curtained area in the shop. Heinz was right. Besides Hardwick, other KVI personalities showed up. Roall Erickson and Jack Morton were clients. The shop flourished.
Gary and Heinz formed Northwest Men's Hair Stying Association getting great air time from KVI in the process. Gary and Heinz both competed and won hair styling competition championships in those years. The success allowed Nick and his wife Jan to buy a boat they moored at Des Moines Marina.They named it 5 Cents (for Nickell).
Heinz moved on to his own shop in the late 60's. Richard Nixon was inaugurated as President. It was 1969. The Seattle  rock band Heart, moved into offices at Seahurst, across from the Post Office. Nick was already there. Business was good.  In 1979, Gary moved the shop to 6th SW between 152nd and 153rd in Burien. The business thrived once more. Cutting hair and making friends was easy for Gary. Jan recalls epic holiday parties as hostess for the day long cocktail events attended by many of the movers and shakers in the Highline area. The shop has changed hands. Now Nick's  chair serves others. Nick keeps the memories.
Nick and Jan have no regrets though Jan remains active with the Meals On Wheels program in Burien.
Married now for 38 years, the couple have plans to relax, travel and enjoy the simple, personal things.