Lancer fastpitch drops Kentridge Chargers
Lancer fastpitch drops Kentridge Chargers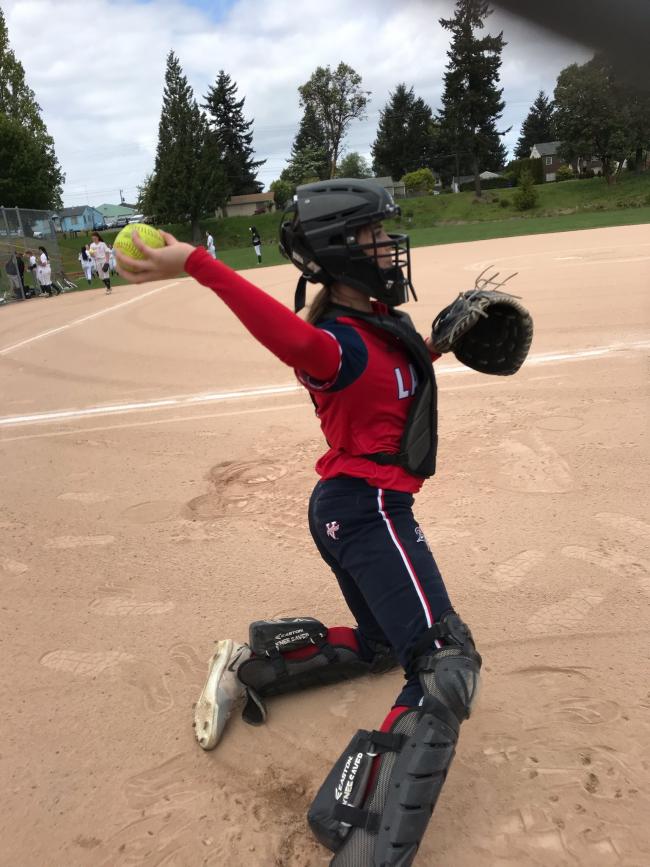 Gerardo Bolong
Fri, 05/03/2019
By Gerardo Bolong
CONTRIBUTING WRITER
Strong pitching backed by a determined defense were the main factors in a Kennedy Catholic 4-0 fastpitch softball shutout of Kentridge in a North Puget Sound League 4A Cascade Division victory at Chelsea Park on Thurs., May 2.
KC improved its division record to 11-3 and a tie with Kentwood for second place with the league tournament set to start on Thurs., May 9, at the Kent Service Center fields.
"There was a lot of pressure on the team," said KC first year head coach Frank Scandiffio. "We beat them 13-3 last night, so they had nothing to lose. The defense kept solid and the seniors had big hits.They're learning a new system and have come on strong at the end. It's been enjoyable. As for the playoffs, I've seen a good thing. They're ready to go. They're working hard and have good chemistry."
The fighting Lancers are led by three seniors, but the rest of the squad features four juniors, one sophomore. and seven freshmen as a hint of a strong Lancer future.
Kennedy Catholic quickly earned its only necessary run in the home half of the first inning. Hannah Scandiffio led off with a lined shot double in the left center field gap before advancing to third base on a passed ball. One pop out later, Shelby Lawson grounded out to shortstop, scoring a Lancer run.
In the third inning, Avery Watkins lined a leadoff single and advanced to second base on a ground out. One out later, Ainsley Porter skimmed a ground ball just past the second baseman's glove for an RBI single that increased the KC lead to 2-0.
Tatiana Leahy power bombed a deep fly ball to left field to start the fourth inning for a 3-0 Lancer lead.
Besides her deep blast, catcher Leahy also kept Charger runners honest with throws to first while also nailing a runner trying to steal second base.
"I just felt it was a pitch I liked," said Leahy. "We played them already, and I knew their team likes to lead off far. It all really jived together."
The final run of the game was made possible when Lawson legged out a base hit for a double to open the Kennedy Catholic sixth inning. Leahy flied out deep to right field, sending the runner to third base. Molly Hatfield's sacrifice bunt scored the fourth run to give the Lancers a good cushion going into the top of the seventh inning. 
The Chargers deposited runners on second base with two out. KC pitcher Marianna DeSimone stranded the runners by striking out a batter to retain her four-hit, complete game shutout.
"I was in a state of flow," DeSimone. "This was our best as a team."
Scandiffio batted 2 of 3 for Kennedy Catholic.
The Lancer defense played solidly, with each player positioning well to handle grounders and fly outs. A Kentridge runner was deleted when she was caught in a run down between first and second base in the second inning.
Hailee Simpson, DeSimone, and Leahy made their final regular season appearance as Kennedy Catholic players. The Lancers also made their last appearance at Chelsea Park. Steve Cox Park will be the home field for Kennedy Catholic next season.