Burien's First Friday is set for June 7
Burien's First Friday is set for June 7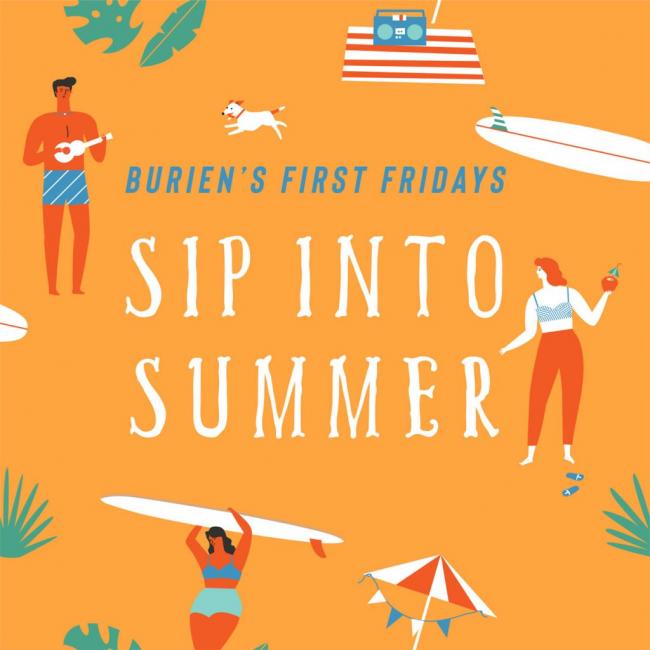 Mon, 06/03/2019
Burien businesses are throwing the doors open with Burien's First Fridays, an evening of uncommon experiences. The first First Friday will be June 7, launching with live electrifying-to-relaxing music, unique cocktails, wine-tasting, art, fashion shows, bone casting, leather-making, and much more.
With "Sip into Summer" as the theme for the inaugural Burien's First Friday on June 7, celebrate the season with live music on the sidewalks and summery drinks, even specialty beverages for your pet. You can explore your inner rhythm by joining a drum circle of hand-made drums and instruments.
First Friday festivities include the already-esteemed B-Town Beat Art Walk. Peruse the unique creations of local and regional artists with the artists themselves, who will in many cases be on hand to chat about their handiwork.
Festivities start at 5 p.m., and stores that normally close earlier will stay open until 9 p.m.
You will find all of the action for the inaugural First Friday in Burien's business core—eventually expanding throughout the city. The core ranges along S.W. 152nd and 153rd Streets from 24th Avenue S.W. in the cozy Seahurst neighborhood to First Avenue South. Find the fun, including participating businesses and their offerings, by going online to Burien's First Friday Facebook page.
Upcoming Burien's First Friday themes will include:

·       July 5 – "Red, White & Burien," celebrating our independence.

·       Aug. 2 – "Burien Beat," music in the stores and streets.

·       Sept. 6 – "Camp Burien," last hurrah for the kids before they head back to school.
Burien's First Friday is driven by local small business owners focused on how to introduce more people to the uniquely friendly, mutually supportive, multi-generational community that is Burien. On First Friday, immerse yourself in Burien's warmth, one-of-a-kind shops and restaurants and burgeoning arts scene, all in close proximity to Puget Sound, the airport and downtown Seattle.
To participate in Burien First Fridays as a business, artist, artisan or entertainer, please contact The Burien Collective at BuriensFirstFridays@gmail.com.