Alaska Airlines and Port celebrate Grand Opening of the first phase of the new North Satellite
Alaska Airlines and Port celebrate Grand Opening of the first phase of the new North Satellite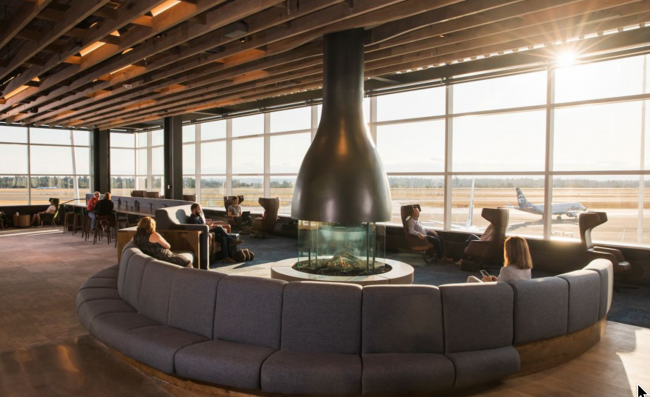 Fri, 07/12/2019
information from City of SeaTac
On Thursday, July 11, Deputy Mayor Clyde Hill, and Councilmembers Joel Wachtel and Peter Kwon attended the grand opening of the new flagship Alaska Air lounge at the newly upgraded North Satellite Terminal at Sea-Tac International Airport. The 15,800-square-foot lounge is Alaska's largest and the third lounge at Sea-Tac, seventh overall. The new space includes comfortable lounge chairs, a barista bar, a fireplace, and a bar with12 microbrews on tap.
The lounge is part of the first phase of the $658.3 million dollar North Satellite Modernization Project which included eight new gates, expanded locally-based dining, and retail options. In addition, the 255,000-square-foot expansion adds more gate seating with charging stations and in August will include a brand-new Nursing Suite on the upper-level mezzanine for traveling mothers.
Designed in partnership with Graham Baba Architects, the flagship lounge has a relaxing and welcoming West Coast vibe with open spaces, a grand fireplace and warm finishes. Customers can sip one of a dozen Seattle microbrew at the spacious bar, taste complimentary Pacific Northwest-inspired bites or enjoy custom-brewed espresso beverages and teas from an Alaska Lounge barista.
To learn more, visit Alaska Air or Port of Seattle's websites.