Ram tennis stops Lancers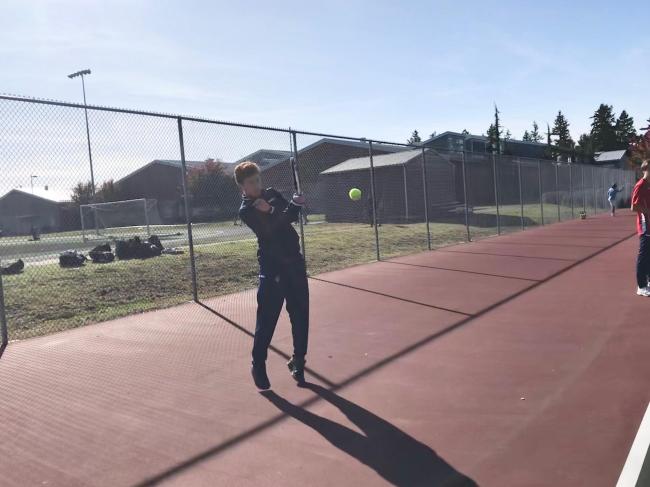 Gerardo Bolong
Tue, 10/15/2019
By Gerardo Bolong
CONTRIBUTING WRITER
Sophomore strength in singles teamed with the potent No. 1 doubles team for Mt. Rainier in a 3-2 NPSL 4A Cascade boys tennis win against visiting Kennedy Catholic on Mon., Oct. 14, in Des Moines.
The Rams (8-5) and Lancers (9-4) each have one more league match before the weekend's scheduled NPSL tournament at Kent Meridian and Auburn.
"We tried a different lineup," said MR head coach Tim Lee. "Sophomores played singles. Lucas (Bradshaw) played his second singles match, ever, and Colin (Olmstead) played his first.That set up our No. 1 singles team that is really starting to gel."
In No. 2 doubles Kennedy Catholic's Max Volle and Lucky Ruona took the measure of Hunter Schierbeck and Andrew Hoang, 6-1, 6-1, to give the Lancers an early match lead.
"We executed well and my partner kept me on an even keel,' said Ruona. "We just had to execute and play consistently. The power we already had."
Bradshaw quickly squared the proceedings for Mt. Rainier with a 6-1, 6-2, No. 1 singles defeat of Patrick McGaughey.
"I played more passively and kept the ball in play," he said. "I could have had better serves and finished my shots."
Olmstead took care of his part of the Ram strategy by stroking  past Aidan McGehee, 6-4, 6-3, in an entertaining ground stroke match.
Leading 5-4 in the first set, Olmstead broke service for the set before continuing on to victory in the match. 
"I was remembering to bend my knees and hit the ball from the bottom up," Olmstead said. "Just basic stuff."
Kennedy Catholic refused to fold and stayed alive with the results from No. 3 doubles.
Aaron Reed and Kai Medina defeated the Ram pair of Jacob Lombay and Kevin Khong, 6-4, 6-4, to send the verdict to the final match.
"We took advantage of their net play by lobbing," said Reed.
On came the No. 1 Mt. Rainier doubles team of Lucas Orint and Cameron Camp to out slug Lancers Joseph Conway and Cory Hinthorn, 6-1, 6-1, shutting the door against the Lancers.
"Mt. Rainier has a good, strong team," Kennedy Catholic head coach Viet Ran said. "Last time, we beat them 4-1. These were good matches and there was good sportsmanship."
Comments
Way to go Aaron Reed! Proud of you!
Add new comment