Highline boys beat Tyee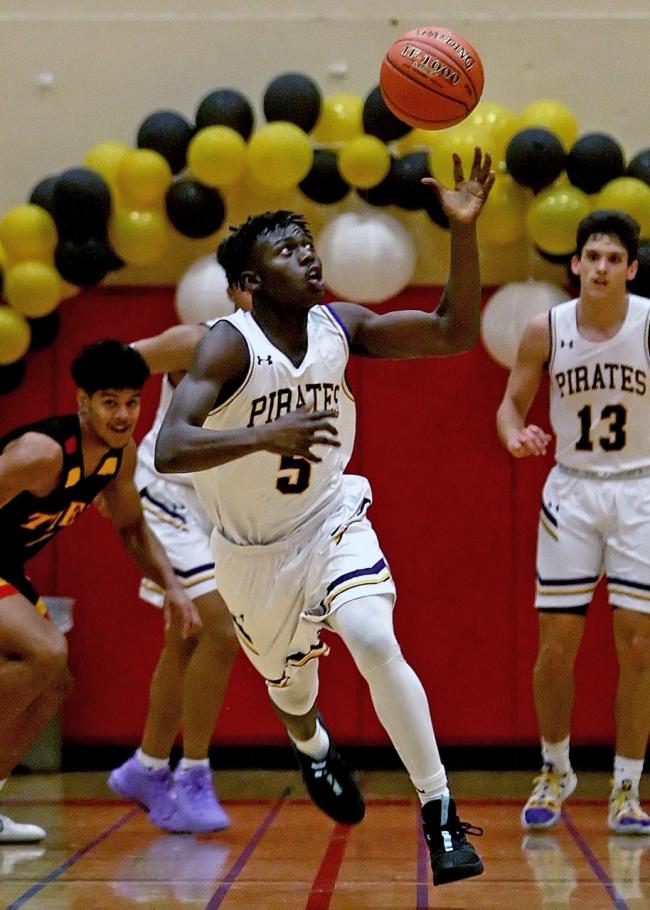 Kurt Howard photos
Sun, 12/15/2019
By Chuck Mingori
CONTRIBUTING WRITER
The Tyee and Highline boys' basketball teams met on the Totems' home court Friday night with the Pirates taking home a 58-45 victory in the league opener for the two rival schools. 
Malakai Carter and Kelvin Adu each scored 12 points for the Pirates to lead a balanced scoring attack followed by Joey Joyal with 10 and Amare Jackson with nine, while Totem senior Mohamed-Amin Ali poured in 15 points and sophomore  Samuel Deressa added 14. 
Highline coach Djuan Piper explained that his team did not hit full stride until the second half when the Pirates built an 18-point lead in the closing minutes.
"We just weren't executing in the first half," Piper said. "I felt like we picked it up in the second half to extend the lead. We picked up the pace and we just started executing our offense."
Highline came into  the SPSL 2A opener with losses to Sammamish (58-41) and Seattle Christian (75-52) and with a win over Cascade (67-52) in non-league games. For Tyee, it was the Totems' season opener. Coach Rodney McCurry said his team was a little "messy" with some aspects of the game. "We executed pretty well in the first half…just it was unforced errors that we've got to clean up. Lot of travels…fundamental stuff."
The two teams struggled to find the bottom of the net until Ali swished through a three-pointer at the 5:07 mark of the first quarter for an early Totem lead.   Joyal 's six points and two baskets from  Jackson provided all the Pirates' scoring in the opening quarter. Ali had all of Tyee's points in the first quarter as Highline led 10-5.
Back-to-back steals and layups by Adu forced a Tyee timeout with 4:57 left in the second quarter as Highline held  a 17-9 advantage. Consecutive baskets by Abdirahim Mohamed, a 6-1 senior for Tyee, made it 19-13. The lead grew to 22-13 on a free throw from Carter and a put back from Adu. Tyee clawed back on a layup from Deressa after a steal and a shot from the baseline by Sadio Traore. But the first half ended with Highline leading 24-17.
A pair of baskets by Adu to open the second half and a free throw from sophomore guard Larell Ezell built the Pirate lead to 12.  The Totems trailed 33-19 before going on a  10-point run. It started with a breakaway lay in by Alex Keomahavong followed by a three-point swisher from Ali, who added a banker for two and another shot from beyond the three-point line, as the deficit fell to 33-29 with a minute to play in the third quarter. The Pirates' lead still  stood at 37-31 going into the final quarter after a breakaway lay in by Tyee's second leading scorer, Deressa.
Highline picked up its game from here on out, and it began when Carter cashed in on a bucket after a flurry of offensive rebounds and four previous field-goal attempts by the Pirates on one possession.  Following a foul-line jumper by  Mohamed of Tyee, Highline went on a big run. It started with a steal and dish from Adu to Carter for two. The Pirates got rolling when junior center Riley Piper was fouled on a putback shot to convert a three-point play.
The Pirates kept up the defensive pressure and cashed in on their opportunities in the final quarter.  Carter scored eight points in the final period to lead the charge and also dished to teammate Jackson for two points. After Jackson sank one of two free throws Highline was in command at 55-37 with a minute to go. Tyee finished strong to outscore Highline 8-3 in the closing moments. 
Although disappointed with the loss, Totems coach McCurry was pleased with some things he saw from his players.
"I thought when we finally got into our offensive set, we moved the ball around pretty well. We haven't done that in the past," he said. "I think defensively we did fine. We just didn't rebound well. We gave up second and third opportunities a lot. They got a lot of points off  our turnovers, our mistakes, travels, bad passes, just not being in the game. If we just clean up some things, take care of the ball…we'll be okay."
Tyee is in its third season under coach McCurry. The junior varsity is coached by Jason Hunter. The Totems face a tough test this week with a pair of road games. Tuesday, Tyee travels to Renton followed by a Thursday match-up at Lindbergh.  Lindbergh is 5-0 overall.  Friday, Tyee will host Seattle Christian in non-league play,  The Totems will then compete in the Crush In The Slush tournament the weekend of Dec. 27-28, at Port Townsend High School.
Highline will play Lindbergh on Tuesday, Dec, 17, at Highline Community College. Thursday, the Pirates travel to Evergreen, followed by a Saturday, Dec. 21 contest at Thomas Jefferson.