Soccer champs return to Tukwila
Soccer champs return to Tukwila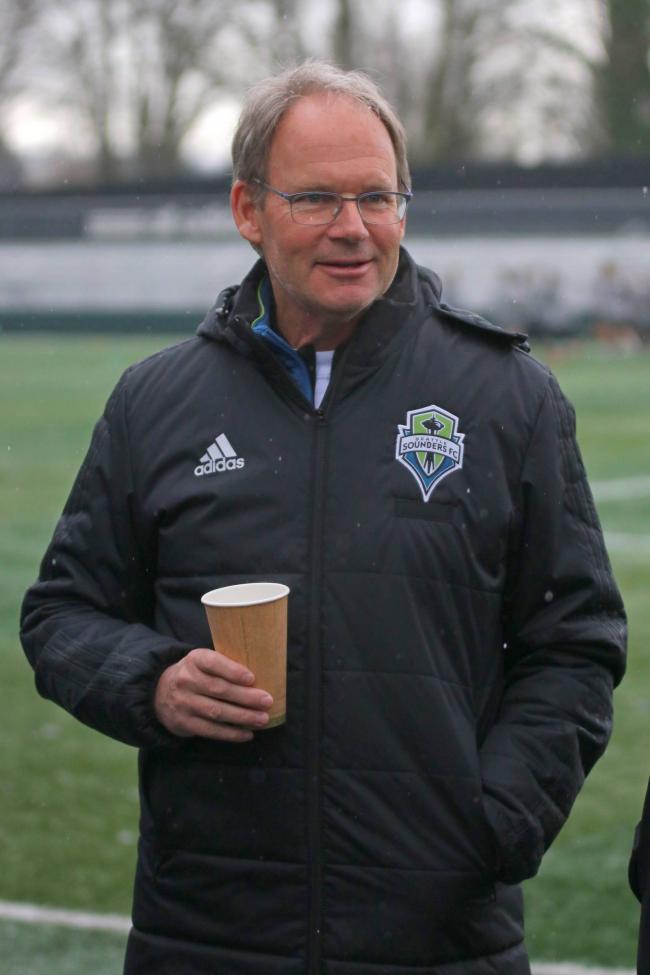 Chelle
Wed, 01/15/2020
By Chelle
CONTRIBUTING WRITER
The Sounders are back and diehard fans are still awestruck.

Ice, intermittent snow, and wind could not keep the defending Major League Soccer champion Seattle Sounders and a few dedicated fans away from Starfire fields in Tukwila on opening day of preseason practice, Tuesday, January 14, 2020.
While talks of union negotiations and empty roster slots dominated the press conference, the smiles were everywhere as the players took to the snow spackled field for a short first day back. 
Former Sounder and current goalkeeping coach, Tom Dutra, is excited to get the season going. "That's what is great about this job, you think you get things figured out and then changes come, and there are new challenges to overcome. I love it." His advice for players everywhere, "Love what you do and have fun with it."
Garth Lagerwey, Sounders General Manager, commented on how ironic it was that his easiest year (last year) was when he was honored as Executive of the Year. With all the hard work put in years prior, there was little to do last year to improve the championship-destined team. However, that win meant everyone else wanted a piece of the team he spent years building, so naturally some players left for other opportunities. It happens all the time in sports, thus he believes in long-term building and development instead of focusing on immediate short run. So not to worry, while not everyone is back, there is still plenty of magic in the ranks. "We could put this team in a game tomorrow and they would win. They would win a lot of games," but he is not done building and will use mid-season contracts again as needed. 

While it is easy to become complacent after a great year, the Sounders have no plan in letting that happen to them. The core of the Sounders is solid and will be infused with young talent being looked at now. Last year the Sounders were one of the oldest teams around, this year they may be one of the youngest. Coach Brian Schmetzer explained how, as a team, they have intentionally raised the practice bar higher. Many Academy players from both the Sounders FC and Tacoma Defiance have been invited to come practice, and they are expected to meet that higher bar or be sent back home to develop more there. Do not worry, no one was sent home today. 
Currently the preseason roster lists several 17-18 year old locals, including Danny Robles (#34) from Burien, Alec Diaz (#32) from Issaquah, Ethan Dobbelaere (#45) from Seattle, and Josh Atencio (#84) from Bellevue. Jordon Morris (#13) and Sam Rogers (#50) are both from Seattle and in their 20's.  
After practice, Stefan Frei, the skilled Swiss goalkeeper, took time to chat with fans while waiting his turn with the press. "More ball touches are important," a young aspiring goalkeeper told Frei when asked what he learned watching today.
Growing up, Frei wanted to be either a goalkeeper or a fighter pilot and developed a side passion for street-inspired abstract painting. Lucky for us he became a goalie. But he also loved being a striker, as the celebration and passion that comes with scoring is unbelievable according to Frei as he flung his arms wide, recreating the magic of a scoring moment.  As a freshman, he was a leading scorer and racked up numerous penalty kicks in his college days. While he has yet to score professionally, a tough thing for goalies to do, he does love having several assists already tucked under his Sounder belt.  
During the press conference, Frei commented on the importance of taking a break from the game. The only time he had a serious injury was after a high intensity season where he did not take a mental and physical break from soccer before starting the next one, and he learned from that mistake. Glad to be back on the field again with his teammates, Frei pointed out, "It takes time to get the body and mind used to falling down 200 times and getting right back up afterwards." Sounder words of advice that apply to more than being a champion goalkeeper. 
Practices are open to the public and held in the stadium at the StarFire complex in Tukwila.  Their first game is March 1, 2020 against Chicago Fire FC.