City of SeaTac's 30th Anniversary Party set for Sat, Feb. 29; Free event has lots in store
City of SeaTac's 30th Anniversary Party set for Sat, Feb. 29; Free event has lots in store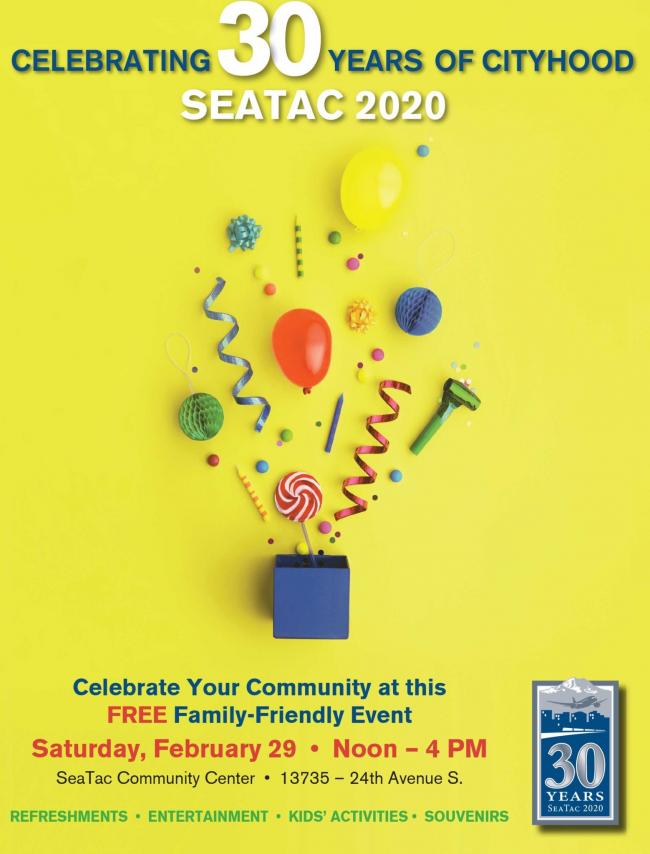 Thu, 02/13/2020
Celebrate the SeaTac community at the City of SeaTac's FREE 30th Anniversary Party, a family-friendly event being held on Saturday, Feb. 29, 2020, from Noon until 4 p.m. at the SeaTac Community Center.
◦ REFRESHMENTS
◦ ENTERTAINMENT
◦ KIDS ACTIVITIES
◦ SOUVENIRS
13735 24th Ave S, SeaTac, Washington 98168
About SeaTac
The Highline area, which includes modern-day SeaTac, Burien, Tukwila, and Des Moines, was settled by Americans in the mid-1850s. The federal government finished construction of a military road from Fort Steilacoom to Fort Bellingham in 1860, passing through the Highline area to the east of modern-day SeaTac.

Local residents voted for the incorporation of SeaTac on March 14, 1989, and the city incorporated on February 28, 1990.