A little bit of Grace at the airport
A little bit of Grace at the airport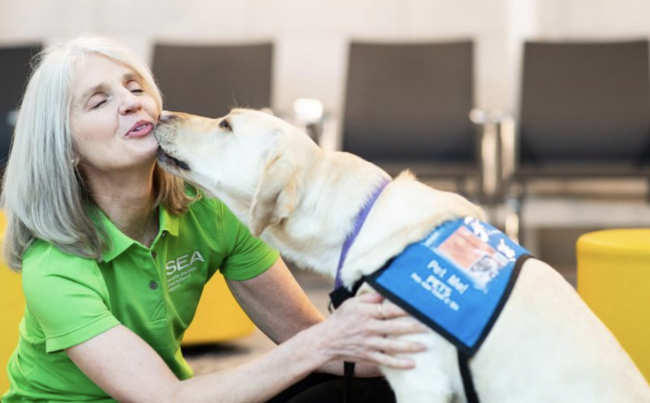 Mon, 03/09/2020
information from Port of Seattle
Building connections
When travelers and airport employees spot Gracie, a yellow Labrador retriever at Seattle-Tacoma International Airport (SEA), their faces and eyes light up and any stress from their hectic day seems to melt away.
Gracie, a certified therapy dog, and her owner Joanne Montzingo spend time at the airport each week building meaningful connections, offering travelers a friendly furry face and a moment of calm in what might otherwise be a jampacked day.
"A lot of people are stressed. What we do is help to calm people down. We help them to refocus on enjoying what they're doing and help to just mellow things out a little bit," Montzingo said. "People are often very hurried when they're traveling and so when they see Gracie, it's really helpful to them to stop, be able to pet her, and just take a minute to slow down."
Montzingo has been volunteering with therapy dogs at the airport, as well as schools, hospitals, retirement communities, and other locations around Seattle for the past six years — first with her therapy dog Allie, and for the past two and a half years, with Gracie. 
Gracie was originally raised to be a guide dog for the blind, but when she wasn't a good fit for the program, she found a new way to help people — as a therapy dog. Montzingo was looking for a therapy dog and connected with Gracie immediately.  Her calm, friendly, and approachable demeanor makes her a hit with passengers, who flock to her during a layover, on their way to grab a bite, or en route to their gate. Gracie and Montzingo hang out near the Information Desk in the Central Terminal but can be found throughout the terminal bringing joy to passengers.
"I have a little carpet that Gracie sits on and then we watch the magic happen," Montzingo said.
Montzingo and Gracie form one of the six volunteer therapy dog teams at SEA working to improve passenger well-being. Therapy teams are registered through Pet Partners.
The Airport Volunteer Program is looking for new teams to join Montzingo and Gracie and will onboard new volunteers in late spring and fall. 
Meet Gracie
Unlike the Transportation Security Administration (TSA) and Port of Seattle security canines who are working and don't interact with travelers, you can stop and pet Gracie. 
"We notice people walk by and they'll stop and look at her and look at me, and notice her 'Pet Me' vest," Montzingo said. "If I smile then they'll approach. People just love on her and she'll lay on her back, rolling over, making it easier for people to pet her. That's her job."
Gracie is sensitive and very mellow, and has a natural ability to comfort people where they may be feeling complex emotions, like an airport or a hospital. 
Here to help
"Being helpful to me means to have people share a little bit of their burden with us and move out of a place where they may feel a little constricted or closed in and have a moment where they can release a little bit of tension or have a little bit of a change of heart," Montzingo said. "This is what we do."
People from all walks of life pass through the airport from all over the world, each with their own unique situation. Gracie's magical effect on people is universal — she makes everyone relax instantly.
"We met a man who was here for just 24 hours for a friend's funeral and he was really stressed and just having a hard time," Montzingo said. "When he saw Gracie it just changed his mood. It was very helpful to him to be able to just have a minute to kind of refocus and just settle in."
Another passenger was heading home to Alaska and his wife had called him the night before and told him that his dog had been killed by a bear. 
"He was very upset. We were there at the Central Terminal and as he walked by, he just gravitated toward us and was pretty much in tears," Montzingo said. "I think Gracie helped him to process what had happened to him."
A little grace
"I think one of the biggest things that I would like to bring here is just a little bit of grace to people, so people can feel that when they're walking through this airport," Montzingo said. "The airport can feel big and kind of lonely sometimes, and it helps if they can see a friendly face." 
"If you can see a dog you can connect with and maybe the person behind the dog, you feel a little bit better about your travel experience and it just adds a little grace to your life. That's why we named her Gracie. What good are if we can't just be graceful to people and help people along?"
Always welcome 
"I think SEA is special because we are learning to adapt to what's happening around us," Montzingo said. "I think there's a special emphasis on making sure that passengers feel good and feel welcome and cared for here."
Volunteers like Montzingo and Gracie contribute to that customer-centered environment, and help travelers from around the world feel welcome at SEA one wag at a time.
"The therapy dog program is so great because, we're really meeting people's needs in a way that is tangible. I think that the interactions that we make are really significant in helping people to have a better experience and feel calmer about flying. And when one or two people are calmer, everybody's calmer."