Burien wants to upgrade Moshier Park with artificial turf
Burien wants to upgrade Moshier Park with artificial turf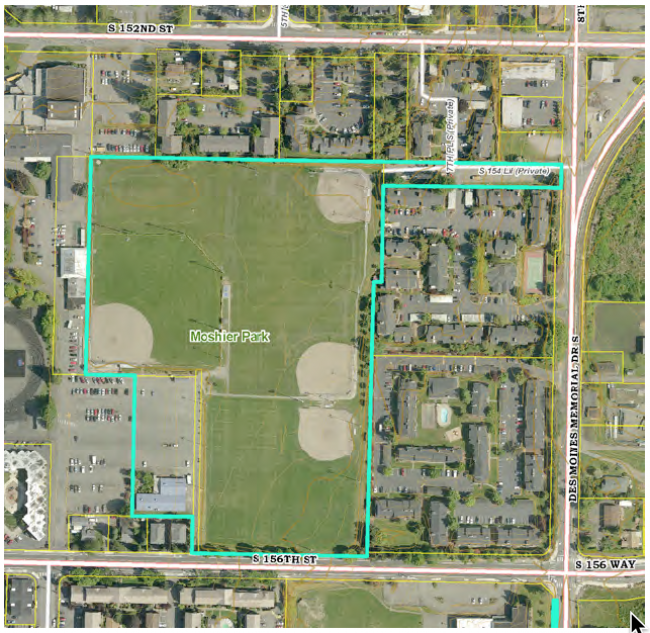 Mon, 04/12/2021
information from the City of Burien
The City of Burien is proposing a project to provide stormwater management for a drainage sub-basin around Moshier Park and make improvements to the athletic fields and restroom facilities at the park for year-round usage.
This 15.2-acre community park is located at 430 South 156th Street in central Burien adjacent to Highline High School in central Burien. The park shares parking with the Moshier Arts Center located on the southwest boundary.
The multiuse sports field site can accommodate 4 lighted grass 250-300- foot grass softball/baseball fields, 2 lighted grass 120-yard regulation soccer fields, an asphalt path, and restroom.
Additional grass field areas are used for practice by youth soccer and football.
The recreational improvements include replacing an existing natural grass ball field with artificial turf. Approximately 100,800 square feet of artificial turf will be installed. Water quality treatment will be provided for stormwater runoff from pollution-generating impervious and pervious surfaces within the project site prior to runoff entering the 18-inch City storm line. In the proposed conditions, the stormwater flow control and water quality facilities will treat both om-site Moshier Park property as well as off-site Highline School District property. The project construction activities will include grading, new storm sewers, new stormwater treatment facilities, paving, and landscaping. The existing bathroom structure will be demolished and replaced with a new restroom and concession building. 
PLA 21-0706 Type I (SEPA)
File is available for viewing by request. Please contact Dan O'Brien at DanO@burienwa.gov or at 206-248-5538 
430 S 156th St, Burien, WA 202304-9082 
The lead agency for this proposal has determined that the proposal does not have a probably significant adverse impact on the environment. An environmental impact statement (EIS) is not required under RCW 43,21C.030(2)(c). This decision was made after a review of a completed environment checklist and other information on file with the lead agency. 
The DNS is issued under WAC 197-11-340(2). The lead agency will not act on this proposal for 14 days from the date above. Written comments must be submitted by April 23, 2021 at 5:00 p.m. 
There is a 21-day appeal period on this agency decision. The City of Burien has issued the decision described above. Parties of record may appeal this decision to the Hearing Examiner pursuant to Burien Municipal Code Section 2.20.020. The deadline for filing a written Notice of Appeal with the City Clerk is prior to 5:00 p.m. on April 30, 2021. Copies of the "Notice of Appeal" document may be obtained at the Department of Community Development. There is a non- refundable filing fee of $367 for the submittal of an appeal. For more information please contact the project planner (see below). 
400 SW 152nd St., Suite 300, Burien, WA 98166 Phone (206) 248-5507 • Fax (206) 248-5539 • burienwa.gov