Russell Wilson, Ciara tour Des Moines School
Russell Wilson, Ciara tour Des Moines School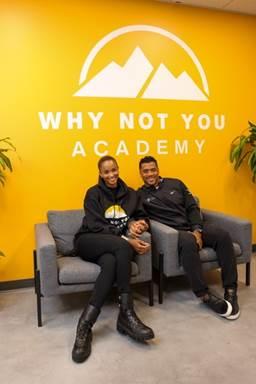 Courtesy photo
Fri, 06/18/2021
By Tim Clinton
SPORTS EDITOR
Seattle Seahawks quarterback Russell Wilson and his famous singer wife Clara just made their first visit to the school they teamed up to found in Des Moines.
Their Why Not You Academy is set to open this September.  It is a charter public high school.
"We dreamed and talked about opening a school together the first day we met," wrote Russell Wilson in an Instagram post.  "We are blessed to say it's offlicially here.  To be able to help kids' dreams come true is such a blessing."
The couple's Why Not You Foundation was formed in 2014 and is dedicated to fighting poverty through education and to forming tomorrow's leaders.
Russell Wilson was here for the Seahawks' recent three day mini camp.