Burien city council elects new Mayor and Deputy Mayor
Burien city council elects new Mayor and Deputy Mayor
Sofia Aragon elected Mayor and Kevin Schilling elected Deputy Mayor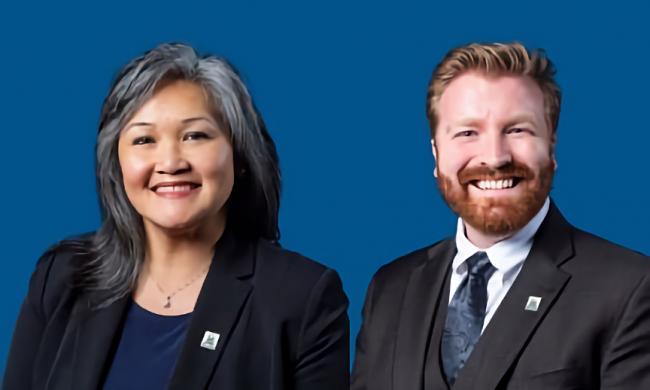 Wed, 01/12/2022
information from the City of Burien
The Burien City Council voted on January 10, 2022 to elect Sofia Aragon to serve as mayor for a two-year term and Kevin Schilling for a one-year term as deputy mayor. Both Schilling and Aragon were elected to the Burien City Council in 2019. 
Aragon is the executive director of the Washington Center for Nursing, a nonprofit organization focused on building a strong and diverse nursing workforce. She is the first woman of color to be mayor of Burien. 
Upon being elected, Mayor Sofia Aragon said, "I'm incredibly humbled to receive the nomination and be supported in this role. I would also like to work diligently to respond to input from the community. Being a mayor is really servant leadership. I'm here to support the entire Council to make sure we function the best that we can as a whole. I want to continue the momentum to assure that community input and diverse opinions are brought forward to inform all issues. And I do sincerely want to support all councilmembers in terms of their pursuit in their policy goals for Burien. And I do believe that we are all united in wanting to work for the best in the city. To do that, my task is to make sure we have those thorough discussions that everyone has heard. We have all won our campaigns. It's time to get to work."
"I'm honored to follow Jimmy Matta in this role," said Mayor Aragon. "I think he's done an amazing job and gone above and beyond what was expected of him for mayor. I particularly admire his willingness to outreach to community members whether they are in agreement on issues debated by the City Council. So I think that I have some really big shoes to fill."
Kevin Schilling currently works as an aide for Rep. Derek Kilmer. Prior to this position, he was a pastoral assistant for youth ministry at the St. Francis of Assisi Parish.
Upon being elected Deputy Mayor Kevin Schilling said, "I think Sofia Aragon as mayor and myself as deputy mayor will present a duo of leadership that showcases the new and the historic. We have a member of the city who is relatively new and someone who has generations of family that has lived in the area. I think Sofia and I can work … to bring together a diversity of thought, to get to work, and to keep making Burien a better place to live for all people and all walks of life. I'm excited to be working with everybody on this council. I think we are going to be making a lot of positive change together. And I'm excited to do that with respect, creativity, and a whole lot of hard work."
Burien is a council-manager form of government. Other members of the City Council elect both the mayor and deputy mayor. Mayors serve two-year terms and deputy mayors serve one-year terms; both can serve an unlimited number of terms.
_____________________________
VIDEO: Sofia Aragon new Mayor of Burien acceptance speech
City of Burien
VIDEO: Burien Deputy Mayor Kevin Schilling acceptance speech
City of Burien