REVIEW: Tiny Beautiful Things at Burien Actors Theater
REVIEW: Tiny Beautiful Things at Burien Actors Theater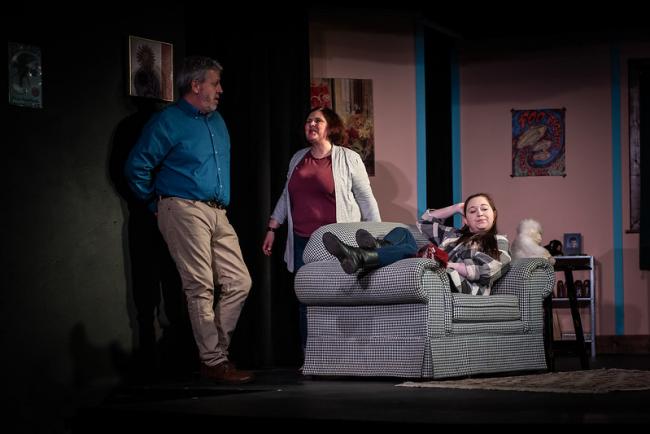 Fri, 04/28/2023
By John Van de Ven
Nia Vardalos' Tiny Beautiful Things is the second serving from BAT for it's 43rd season. This is a touching story about human connection and having empathy for one another. I really liked this story about giving advice and how to listen to one another. There are real lessons to learn from this play, and I highly recommend this BAT show. However, I should give a brief content warning, it is a mature story that deals with trauma and elements of trauma that may not be appropriate for everyone. So keep that in mind if you do decide to check it out.
BAT has been dedicated to the concept that art needs to be disruptive, and from time to time a bit uncomfortable. This is important because if art was boring or otherwise uninteresting, no one would pay attention. So although I give this warning about the content of this show, I would still recommend it and think that it is worth your time.
Tiny Beautiful Things opens with our main character, mysteriously named "Sugar", as she accepts a job taking over an advice column from an acquaintance. Although her advice is heartfelt and meaningful, Sugar struggles to connect with her readers. Over time this changes, and she eventually wins the affection of her readership through sharing her personal and painful experiences. Each reply becomes more personal than the last, as we relive Sugar's past traumas.
We get snippets of Sugar's life each time she responds to an email asking for her advice. Her past and present are displayed for us, warts and all, and a contrast is made of where she was and how she used to be, to where and who she is now in the present. This most important factor gives us the understanding that the advice Sugar gives can only come from hindsight of a life lived.
Tiny Beautiful Things showcases some of BAT's finest acting. Olivia Robinson is excellent as Sugar, our main character and middle-aged advice giver. Robinson is superb as our main character, and has good chemistry with her three co-stars. You really feel as though Robinson has lived the life of Sugar (Stage Direction by Devin Rodger).
The writers/readers of this story are played by Philip Keiman, Kpojo Kparyea, and Shawna Petty as Letter Writer #1, #2, and #3 respectively. Keiman, Kparyea, and Petty each play multiple different writers, with each distinct from each other. All of the actors did a very good job, however it would be a huge mistake for me to not at least mention Kparyea's performance. I personally think she absolutely stole the show and cannot wait to see what she does next.
Sound is excellent I had no problems hearing dialog. Lighting was good, although there were apparently some technical difficulties, though I did not notice if there were any. You could sit in any seat and still be able to hear and see everything (Sound Design by Eric Dickman and Lighting Design by Jacob Viramontes).
The set works perfectly for the show's presentation. BAT's Tiny Beautiful Things takes place in Sugar's living room, and often shows her cleaning while she replies to her writers. The costumes are era appropriate for this modern story (Set and Costume Design by Maggie Larrick and Set Dressing by Cyndi Baumgardener).
As I've mentioned earlier, I really enjoyed this show. I think it's important to remember that while bad or even horrible things will inevitably happen to us all, we must find a way for us to continue living our lives on our terms, and Tiny Beautiful Things demonstrates this throughout the story.
This was a lesson I learned from my mother. She had experienced a great loss early in her life, and although anyone can understand spiraling into depression after going through a life changing trauma, she did not. She chose to persevere when most would have given up.
I found the theme of pushing through trauma throughout BAT's Tiny Beautiful Things, and could not help but think about my mother's experience because of it. Not only is finding a way the driving force in this story, but it is also true for life. Life is filled with terrible things and wonderful things. And as life happens, how you respond is entirely up to you. That is just one of a few thing in life we are in control of, and no one person or thing should take that from you. Make sure to feel your feelings, but when you're done, remember there is a life to live.
Show times for Tiny Beautiful Things are as follows:
Friday, April 28, 2023 @ 8pm
Saturday, April 29, 2023 @ 8pm
Sunday, April 30, 2023 @ 2pm
Friday, May 5, 2023   @ 8pm
Saturday, May 6, 2023 @ 8pm
Sunday, May 7, 2023  @ 2pm
Friday, May 12, 2023  @ 8pm
Saturday, May 13, 2023 @ 8pm
Sunday, May 14, 2023 @ 2pm
Ticket prices are $25 for general admission, $20 for seniors and $5 if you are a student. The First Sunday show is $7.
As I mentioned earlier, Tiny Beautiful Things is the second show of BAT's 43rd season. BAT Theatre has been performing shows in the Puget Sound area over the last 40 years, and is a non-profit 501(c)(3) entity that relies on ticket revenue, donations and volunteer help.