Enjoy dinner and a show in South King County parks with Burien Actors Theatre's comedy "Good Morning, Bill"
Enjoy dinner and a show in South King County parks with Burien Actors Theatre's comedy "Good Morning, Bill"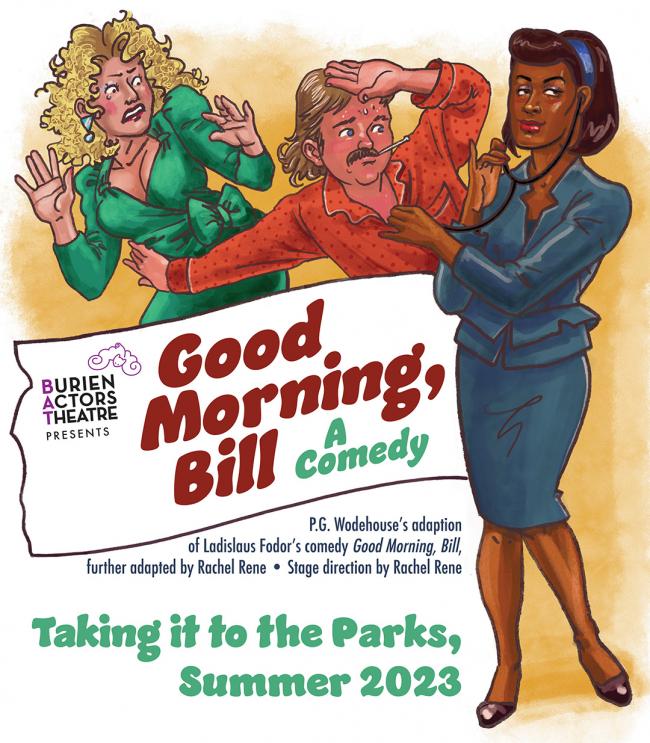 Wed, 07/19/2023
Don't miss a free family-friendly parks show that isn't Shakespeare! Burien Actors Theatre (BAT) brings Rachel Rene's clever adaptation for BAT of the comedy Good Morning, Bill to a South King County park near you July 21 through Aug. 20.

Support our local eateries by making this a dinner and a show event. Bring takeout to the performance, or dine out before or after.

In Rachel Rene's version, Bill falls for the aloof Dr. Sally Smith while on vacation in Seattle. After Bill returns to Mount Vernon, he longs for Sally. Comedic complications arise when Bill's uncle misunderstands, hatching a plan to bring his nephew together with the wrong woman. Rachel Rene further adapts P.G. Wodehouse's adaptation of Ladislaus Fodor's comedy, moving it from 1920s England to 1989 Seattle and Mount Vernon. 

 

BAT is performing the hilarity of Good Morning, Bill in:

Federal Way - Friday, July 21 at 7 p.m. at Steel Lake Park, 2410 S 312th St, Federal Way, WA 98003
Normandy Park - Sunday,  July 23, at 5 p.m. at Marvista Park, 19990 4th Avenue SW, Normandy Park, WA 98166
SeaTac - Friday, July 28, 7 p.m. at Riverton Heights Park, 3011 S 148th St, SeaTac, WA 98168
Burien - Sunday, Aug. 6, at 5 p.m. at Town Square Park, 480 SW 152nd St, Burien, WA 98166
Covington - Friday, Aug. 11 at 6:30 p.m. at Covington Community Park & Soccer Field, 17649 SE 240th St, Covington, WA 98042
Des Moines - Sunday, Aug. 20 at 5 p.m. with free Theater Games from 4 to 4:45 p.m. at Des Moines Beach Park, 22030 Cliff Ave S, Des Moines, WA 98198 – in the meadow

New this year, adults, teens and kids are invited to join in playing free Theater Games in Des Moines Beach Park on Sunday, Aug. 20 from about 4 to 4:45 p.m. before BAT's 5 p.m. performance. These are fun, low-stress games, with no acting experience needed.

Bring a chair or blanket to sit on. Performances run approximately 90 minutes, and are sponsored by the cities of Burien, Covington, Des Moines, Federal Way, Normandy Park, and SeaTac, with special thanks to Kennedy Catholic High School and the Highline School District.

For details, go to:  https://battheatre.org/shows/current-season/good-morning-bill.

THE CAST, DIRECTOR AND DESIGNERS

Stage director Rachel Rene directs the talented cast of. Anthony Floyd (Sir Hugo Drake), Jalyn Green (Lord Tidmouth), Madison McVeigh (Lottie), Karin Rogers (Dr. Sally Smith), Rachel Rene (Marie) and Rex Waters (Bill Paradene). Drew Sherrard is the show's stage manager.

The rest of the creative team for the show is:  Rachel Rene, script adaptation; Cyndi Baumgardner, props design; Amy Hockman, costume design; and Rachel Rene, sound design.

ABOUT BAT THEATRE

Exciting live theater has been a tradition in Burien since 1955. Incorporated in 1980, BAT Theatre is a leading producer of quality live theater serving residents of the Puget Sound region.

BAT's indoor season is at Kennedy Catholic High School, with plenty of free parking.

BAT gives audiences an intriguing and invigorating theater experience with unusual productions. The theater's mission is to "welcome and embrace our shared humanity through live theater. We question norms and thrive because of our diversity and energetic commitment to excellence."


BAT is a nonprofit 501(c)(3) entity and operates on revenue from ticket sales, donations, grants, sponsorships and volunteers.