Westcrest Park gets $75,000
Westcrest Park gets $75,000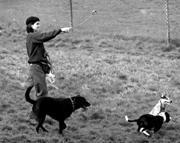 Wed, 07/20/2005
As part of the Seattle Pro Parks Project, Westcrest Park has been chosen to receive $75,000 for an art project. The budget includes artist design fees and the fabrication of the artwork.
Local artist Milenko Matanovic was selected by the Pro Parks community center art planners for the project. His past work includes development of many community outdoor spaces in the Seattle area and he has been involved in many artistic solutions for community spaces, said executive director for Pro Parks art plan Carolyn Law.
Westcrest Park, located at 9000 8th Avenue Southwest, is considered an asset to many residents, but has long stayed underdeveloped. This new art project seeks to change this by enhancing community interest and activity at the park.
"White Center is a community that cherishes its arts and culture," said Aileen Balahadia, executive director for the White Center Community Development Association. "Contrary to the stereotype and negative image of White Center that still partly exists in the area, many artists and diverse cultural expressions call White Center home. For us, that is why public art is such an important facet of a healthy community- public art is long lasting, free to enjoy, expressive and contributes to a more positive image of the neighborhood. Westcrest Park's project is an excellent example of public art that will be designed to fit the character of the Park, its neighbors and the entire neighborhood."
Matanovic's initial goal is to design a sculptural aspect to the park that would allow for views into the wooded area on the northeast edge and link this natural view to the larger panoramic view of the city skyline and mountains.
In 2003, Pro Parks dollars provided the means for other improvements at Westcrest Park, such as an off-leash area, a children's playground and trail improvements, said Law.
"Parks are always an important community asset and Westcrest is becoming a much improved park," said Law. "Seattle Public Utilities will be lidding over the reservoir in the next five years, and that could allow more park 'land' to be added to the existing park.'
The artist Matanovic will soon meet with art and project advisors from around the region who will offer their opinion and input to help the artist design a community oriented art project that really reflects the region and its residents, said Law.
Law hopes the park's artistic improvements will enhance the views of Mount Baker and the city skyline that it already provides, when the project is completed in summer of 2006.
Westcrest is one of about eight major art projects that are said to be finished in the next few years.