Ballard freshman wins chance at state chess title
Ballard freshman wins chance at state chess title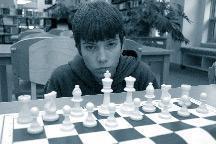 Thu, 07/21/2005
Ballard High School freshman Peter Osseward rules over kings, queens and pawns. His only claim to royalty, however, is as a chess champion.
Osseward recently took first place at the Washington State High School Individual Chess Championship at Meadowdale High School in Lynnwood. Over 121 students from schools around the state entered the tournament. Osseward was awarded a first place gold medal for the ninth- grade division. He was sometimes matched against older players.
Osseward said he wasn't intimidated playing against older competitors. Chess is more about strategy than age.
When he was five years old, Osseward began learning the game. He has been playing competitively for 10 years, collecting trophies along the way.
Osseward found the game appealing when he was in kindergarten. "I liked it right away. I liked being able to use pieces together, to use all facets together," he said.
His favorite award hangs above his bed in his Phinney Ridge home. He earned it by getting a first place tie in his very first tournament.
Some of the trophies belong to his brother J.P., a junior who is the top seeded player for Ballard.
"J.P. is better than me, but not by much," said Osseward.
When Ballard goes to the Washington State High School Team Chess Championship at the end of February in Yakima, Peter will replace J.P. as the top-seeded player. J.P. will be in Idaho at the Lionel Hampton Jazz Festival competition. He plays trumpet in the Ballard High School jazz band.
Junior Narayan Cook is Ballard's other top chess player. The school will have five players representing them. The team is coached by Dr. Leo Stefurak.
As a student at West Woodland Elementary School, Osseward's mother began looking for a chess teacher because there wasn't one at the school.
She called around and found Dr. Stefurak. "He taught all the people (young chess players) then," said Osseward.
In the second grade, Osseward won his first tournament. "Once I got a first place, I knew I had the potential to go far in the game," he said.
"You have to be able to concentrate for a long time. There is a lot of creativity to start an attack and get out of traps," said Osseward.
Dr. Stefurak teachers his players to attack in three ways.
"You look at what all your pieces can do. You visualize what an attacker can do to you and think two to three steps ahead, sometimes more," said Osseward.
The chess prodigy also uses computer programs to improve his game.
"There are programs that show tactics, show openings and how to predict moves," said Osseward.
It helps that his best subject in school is math. "It goes with chess. They relate to each other," said Osseward.
On Wednesdays, Ballard practices against city schools like Bishop Blanchet, Garfield, O'Dea and Seattle Prep.
Weekends are often spent playing blitz games with his brother. The games are played against a clock; as time winds down, players decide on their moves and try to win.
"Fast-paced games are more fun," said Osseward.
With three more years of high school chess in front of him, Osseward is already thinking about college. He would like to earn a scholarship to play chess. For a career, he is interested in doing something with computers.
Meanwhile, he'll face some older chess opponents, but Osseward isn't cowed by the challenge.
"I don't have much of a problem with them," said Osseward.