Ex-sailor sails again with his officer daughter
Ex-sailor sails again with his officer daughter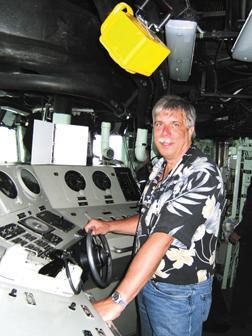 Fri, 07/22/2005
Times/News Correspondent
Chuck never dreamed that 33 years later he would be back aboard ship again, this time underway with his 22-year-old daughter, Desiree - a U.S. Navy officer.
But Chuck, formally known as Joseph Ropel of Burien, gripped the handrails when he recently departed Hawaii for an eight-day Tiger Cruise aboard the USS Bonhomme Richard (LPH 6), his daughter's ship.
Headed toward San Diego, this trip was more time than he had spent underway during his entire naval career, he recalled with a chuckle.
"I was aboard a ship in Newport, Rhode Island, and never really went anywhere," he noted, except five times or so when the USS Cadmus left port to help repair other ships.
Chuck served in the Navy for five years, between 1968 and 1972, spending one year in Iceland and two in Hawaii.
"One of the coincidences in this whole thing is that I was an Electronic's Technician (ET) and I made the rank of E-5," Chuck added.
"And my daughter, who's an ensign on her ship, is in charge of combat electronics and has ETs working for her. So if I was in the Navy right now, I would be working for my daughter."
After leaving Hawaii when he got out of the Navy in 1972, Chuck never expected to go back there.
"I lived there for two years and did everything I wanted to do," he said. However, he found that going on this trip was insightful and allowed him to experience what Desiree does on a daily basis.
While on the cruise, Desiree pointed to all of the communication and navigation equipment, such as the radios and radar, and said, "Yeah, I own that radar. I own that one...."
Since the "Tigers," as the 331 passenger-civilians were called, were allowed to roam almost anywhere they wanted on the Bonhomme Richard, Chuck spent several watches with Desiree on the bridge.
"Her duty station is driving the ship," he said. "She's the conning officer [and] gives the order to make the course or speed changes. So she drives a 41,000-ton ship.
"It was really cool and I'm really proud of her," declared Chuck.
He also had the opportunity to see what it was like to have women on the ship. "I think it's great," said Chuck.
"I saw all the respects and courtesies paid to both sexes by each sex; I was impressed by the mutual respect that the men had for the women and the women had for the men."
Desiree, who graduated last June from the Recruit Officer Training Command program at the University of Washington and was commissioned as an officer, reported to the Bonhomme Richard six weeks later.
The ship was deployed for 182 days.
The ship also crossed 27 time zones; visited four continents; and participated in the tsunami relief in Indonesia last winter, where the crew spent two weeks giving aid, food and water.
The ship also had familial significance for Chuck.
"One interesting fact is that Desiree's ship is the third ship in the Navy to have that name, the Bonhomme Richard," he observed.
"My uncle, who is her third uncle, was on the Richard aircraft carrier - the second ship to have the name during the 50s and 60s. So it's kind of unusual that in the same family you have people on two generations of the ship with the same name."
Chuck had to put his and his wife Amelia's Burien business - the Portrait Studio - briefly on hold to make this voyage at a time when it was swarming with seniors anxious to have their pictures done.
But Chuck said he had a great time and would like to have the opportunity to go on another trip with Desiree.
"Desiree was saying that her dad was like a kid in a candy store. He was so in heaven," said Amelia.
"It was a good experience for him to be out at sea and visit with Desiree and it was good for her, too."