Pitching problems send PacWest off course
Pitching problems send PacWest off course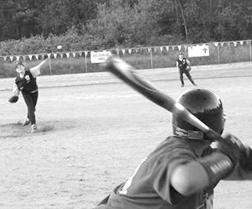 Fri, 07/22/2005
sports CORRESPONDENT
Nothing went right at the right time, pitching was atrocious in the early innings and hitting couldn't keep up in the latter frames for Pac West in a 18-9 loss to Rainier in the Juniors All Stars District 7 Championship at Highline East Monday.
Pac West went through five pitchers in seven innings and were on the brink of losing this by the 10-run rule in the fifth and then sixth innings before settling for being nine back after the umpires callled the game on account of darkness going into the seventh.
"We just couldn't find anyone to throw strikes tonight," said Pac West manager John Howard. "
Pac West changed to a new pitcher for the first time no outs into the top of the second inning before another pitching change came with one out in the bottom of the third inning. By that time, Rainier had made a 2-0 first inning lead, and 6-1 second inning lead.
The Pac West bats did come back to change that score completely, let's note. After Isaiah Jones scored on a Brandon Howard sacrifice at first base to cut into what was a 2-0 lead, it was Rainier getting six before Pac West scored three runs in the bottom of the second inning to make it 6-4, with Blake Meng's RBI double and Joey Young's single ripping through Rainier's lead a little more.
"We hit the ball OK," said Howard.
Pac West did rap the bats well, in fact better than Rainier, but they trailed 6-4 after the first two innings of play. Go figure, it was Rainier with one hit and Pac West with three hits. It wasn't errors as much getting Pac West only, they had two in the second inning that led to Rainiers five-run blast there. It was walks that hurt a ton, two walks in the first inning and two runs scored from that action. And, then in the top of the second, two infield errors led in to three straight walks, two of those walks came with the bases loaded so that forced in two of the runs.
By default, more than anything else, Rainier led early. Then, after Rainier scored one run in the top of the third inning, Pac West did some of that 'OK' hitting as Howard called it. They strung together three runs on three hits with taking advantage of a couple Rainier errors too. All and all, that inning ended and Pac West had tied things up, 7-7.
But that was it of the good comeback happenings, which happened twice to that point for heart-filled Pac West. They could not rally after the third inning bottom half good stuff from Rowden's RBI and Woody Robinson's RBI single and the two errors notched things up.
Rainier scored six runs on three hits in the top of the fourth, and, that inning included four walks mixed in with all the other ugliness.
Rainier led 13-7 at that point. And Pac West did not answer with but two runs in the bottom of the fifth. But, by that time, in the top of the 5th, Rainier had added more runs than one could count on one hand and the lady of large proportions had done her number before the darkness even could end this game short of the seven innings that was supposed to have been played if not for the umpires calling it mercifully on partial darkness after six innings of play.
Things looked so good but then came Rainier in the bottom of the eighth. After the first batter grounded out to Young, dropping to the ground to smother a hard hit and then get up from his knees to make the out at first, it was a ground rule double to right field sneaking under the fence that hurt. Then, at the top of the order, as that first leadoff ground rule double damage was by the No. 9 hitter, the leadoff hitter singled. Now runners were at first base and third base with no outs. And then, after the runner on first base stole second base on a wild pitch, two runners were in scoring position. Then Howard seemed to find something within himself to settle down as he came back from an 0-2 count on the next batter to make it two balls, two strikes. On the fifth pitch of that at-bat sequence the hitter smacked the ball but to the shortstop. It was a playable easy out, but a low throw allowed the ball to get by the first baseman. Two Rainier runners scored and it was tied, 7-7. Then, ace Rainier hitter, Derrick Look was up. He had about as many intentional walks as hits in the tournament he was such a good hitter, probably best in the tournament. Howard started off worrying the Pac West fans to probable heart failure, going 3-0 on Look. But then he decided to challenge Look instead of walk him. Howard's digging found him a Look hit to shorstop. Easy out, but the throw to first was low and the game-winning run came across the plate. No matter, those errors really were superseded by the whole team's offense coming together to hit the ball and come from behind.
Sure, though, Howard was the star of many stars in this game that was a losing effort. But sure didn't feel like it, especially from someone very close to the young Howard.
Howard was phenomenal out there in how he righted himself from the seriously bad first two innings. His mom came out to greet him after his dad, John Howard, had given that final talk in center field to all these players that played altogether so well.
"I love you," she said, hugging her son, about five inches taller than her 5-10 self. "You played awesome. I took two days off work to be here. It was worth it."
"I tried mom, I tried," said Howard.
"I know you did," she said. "You did great."
He did. The whole team did. It really felt like that after the game as the Pac West fans clapped for their losing team for at least a couple minutes straight
There was a lot of class out there too that wasn't as much there when the two teams met the first time, talking about the Rainier side, who had lost 11-3 to Pac West earlier in the tournament.
In this tournament, Pac West opened with a win over Southwest before beating South Highline American, 8-3, and then Rainier, 11-3, and then losing to Rainier 18-9 before this one.
Players for Pac West are Garret Bojorquez, James Hovland, Brandon Howard, Isaiah Jones, Donald Liberty, Bryan Lowe, Blake Meng, Robert Peterson, Paul Reindel, Woody Robinson, Jeremy Rowden, Joey Young. Coaches were Don Young and Jim Hovland and the manager was John Howard.