Redondo teen uses head by wearing bike helmet
Redondo teen uses head by wearing bike helmet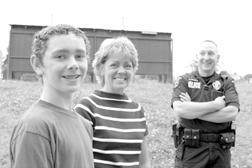 Fri, 07/22/2005
Redondo-area teenager Tyler Veit recently was honored for doing the right thing.
Tyler was presented with a bicycle helmet from the Des Moines Police Department and had a $1,000 donation in his name made to Johnson & Johnson and Safe Kids.
All this because he was wearing his bicycle helmet on a ride through Des Moines last summer when this safety precaution paid off - big time.
Tyler's mother, Joan, noted after the honor was announced that it has always been a rule in the Veit household to wear a helmet whenever you ride anything with wheels.
As the mother of two boys, ages 12 and 14, she knows the importance of "no exceptions." In fact, Joan doesn't allow her sons to play with friends who do not wear helmets.
So wearing their helmets, Tyler, his brother Brian and several friends set off on a bike ride through Des Moines to a location near Sea-Tac International Airport.
Des Moines has clearly marked bike lanes, which made it even safer for the bicyclists as they headed down a fairly steep hill with Tyler in the lead.
Suddenly, a car pulled right out in front of Tyler. He barely had time to put on his brakes as his bike broadsided the car - sending him flying over the hood and sliding nearly 30 feet on his head across the pavement.
Medics arrived at nearly the same time as Joan and his father, Tim. Tyler never lost consciousness but had a hard time moving for a while. He had a bruised and bleeding kidney and stiffness that kept him from school for nearly two weeks, but otherwise was okay.
The memory of the car, his trip through the air and impact with the ground is not forgotten.
Johnson & Johnson and Safe Kids Worldwide are sponsors of the "Safety Role Model Search."
Tyler's application was submitted by Deb Will, Safe Kids coordinator for South King County and child safety specialist at Mary Bridge Children's Hospital's Center for Childhood Safety.
Will noted that unintentional injury continues to be the number one killer of children in South King County, Washington and the U.S.
For more information, or to participate in prevention efforts, contact Will at 253-372-7729.