National come back to reach championship
National come back to reach championship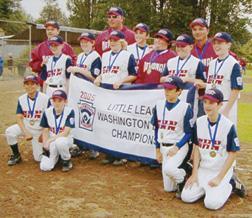 Wed, 07/27/2005
sports CORRESPONDENT
South Highline National's battle through the back roads ended triumphantly at the PacWest Baseball Complex in SeaTac with the 2005 Washington District 7 Little League Majors (11-12 age) All Star championship on Friday, July 15.
National's offensive arsenal upended PacWest, 12-2, in four innings to earn SHN an 11 a.m. state tournament pairing against the winner of District 5 versus District 9 at Sunset Park in Auburn on July 24.
After an opening loss to PacWest and a shaky win against Southwest, South Highline regrouped to outscore its next four opponets by a combined score of 49-2, including two consecutive triumphs over powerful PacWest.
Like a recovering post heart transplant patient, South Highline kept getting stronger with each passing moment.
"We were not as sharp as we have been," said National manager Randy Potter. "Those first two games gave us the motivation we needed. Our team got sharper and stronger each game. They really worked for this one."
With the air portending imminent rain, SHN drew on its reservoirs of strength to make the championship excursion a glorious finale for National supporters.
Austin Merrell doubled to start the game before Josh Potter reached base on a fielder's choice grounder that was misplayed. A passed ball set up runners on second and third with no outs. Run-scoring singles by Tyler Freeberg and Kevin Smith, respectively, made the score 2-0.
Walks to Taylor Goucher and Lance Colley produced another run. Andre Dunn's double to left field knocked in two additional runs for a 5-0 National advantage. Blake Weber followed by doubling home two runs and later scored on Jesus Esqueda's single. Merrell batted for the second time in the inning and singled again. One out later, Freeberg notched an RBI single to complete a nine-run shelling of PacWest.
PacWest tried to fight back quickly.
In the bottom of the first, PW had Davrin Miller lead off with a single. After a flyball out with the runner holding, Jonny Locher unloaded a double, placing PacWest runners on second and third. Jeremy Evans drew a walk to load the bases one out later, but the next batter struck out.
PW scored in the second inning with Nate Owen doubling from the leadoff spot. Advancing to second on Malone Utley's ground out, Owen then scored on Miller's single.
SHN's Esqueda and PW's Logan Brickell matched each other with third inning home runs, leading to Esqueda's fourth inning two-run double that gave South Highline National a 10-run lead that held up for the game's early stoppage.
In a true show of power, National accumulated 12 hits in the shortened fray.
"We've got strong pitching and hitting," summed up National manager Randy Potter. "We have six excellent starting pitchers and nine batters that hit home runs in the tournament. Our players developed on their individual league teams and have a lot of talent. We're looking forward to the challenge at state. It was a great job by PacWest. They tested us and we got better."
As players and coaches dodged sticky string spray, Josh Potter explained why the Nationals were able to stick in the tournament.
"We came in here thinking it was our tournament and we threw a clunker in the first game," he said. "We had to be thinking 'it won't be our last tournament'."
Merrell wholeheartedly agreed with his teammate.
"The first game put us in a swoon for the second game (a 7-6 comeback win). After that game we really practiced hard and thought 'every game we play, we knock out another team'."
Finishing a solid second after going unbeaten until the championship round, PacWest is led by manager Mario Santini along with coaches Roger Gee and Bill Evans.
Players are Dylan Hoglund, Jeremy Evans, Jonny Locher, Nate Owen, Ben Harrison, Malone Utley, Cooper Gee, Logan Brikell, Daurin Miller, Nate Conners, Dylan Ross, Caleb Ramirez and Jeffrey Kempt.
Mike Wydick is the charter president.
The District 7 champion National coaching staff is manager Randy Potter, coach Bob Goucher and coach Troy Phelps.
Players are Austin Merrell, Josh Potter, Tyler Freeburg, Kevin Smith, Taylor Goucher, Lance Colley, Andrew Dunn, Blake Weber, Jesus Esqueda, Connor Phelps and Jim Leeds.
Mark Freeburg is the charter president. The District 7 administrator is Duane Young.