South Highline derailed in state opener
South Highline derailed in state opener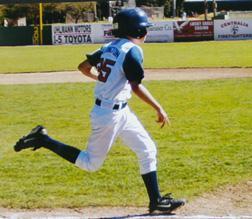 Wed, 07/27/2005
sports CORRESPONDENT
CENTRALIA - South Highline's close encounter of the first kind proved to be deadly on Sunday, July 17, at Fort Borst Park.
Playing solidly most of the way on Dick Scott Field, the District 7 Nationals let one inning get away en route to a 3-0 loss to District 8 Richmond in the first round of the 11-year old 2005 Washington All Star Little League state tournament hosted by District 3.
"Except for a few mistakes, we made the plays we were capable of making," said South Highline manager Rick Morine. "We put the ball in play, but Richmond was making plays."
For three innings National hurler Jordan Morine used his no windup delivery to match goose eggs with Richmond pitcher Henry McAree. SHN's ace was working on a no-hitter while the District 8 star had allowed only a second inning single to Rory Jaramillo-King.
In the fourth inning, Morine retired the first two batters, but was undone by wild pitches, walks, two errors, and a double that led to the three Richmond runs.
A Richmond infield error placed a National runner on first base with one out in the home half of the inning, but MayLynn Mitchell grounded into a double play to end the at bat.
South Highline National hitters were continuously making solid contact with the pitched balls, but in most cases the balls were knocked right at the defensive players who aggressively made the outs.
Morine pitched a two-hitter in five and one-third innings before Mitchell came on in relief for the final Richmond outs in the sixth inning. Jaramillo-King roped another single in the fifth inning as Highline's only base runner over the final two innings.
Richmond's McAree pitched a complete game two-hit shutout with no walks and four strike outs - all in the first two innings."
"They scored their runs on errors. If not for that, we might still be playing," concluded manager Morine. "Both teams played solidly."
On the next night, the South Highline National All Stars bowed out of the tournament in a 4-0 loss to District 9 Sammamish National.
Circumstances were eerily similar to Sunday's action.
A SHN error in the first inning led to a home run and three Sammamish tallies.
South Highline hit the ball better than they did in the first game and had six hits. Two key double plays by District 9 took the Normandy Park charter out of scoring opportunities.
"We got runners on first and second a few times, but couldn't get timely hits," Morine explained. "Sammamish's shortstop and second baseman were solid on defense."
Dazzling defense was not limited to District 9. South Highline made a number of defensive escapes. In the end, SHN failed to take advantage of situations they set up.
"We hit well at district and had good batting practices before this tournament," he continued. "I don't know why the bats went quiet at the wrong time."
Mitchell pitched a complete game for District 7, allowing only one more run over the final five innings.
Jaramillo-King carried over his fine hitting at district into two hits in this game, giving him four hits two state games. Tyler Hunstman and Jacoby Hedington-Stephenson also played well for South Highline National.
"The players gave a good effort," concluded Morine. "It was a good experience for the players and coaches. We had fun."
Manager/coaches for SHN are Rick Morine, Maurice "Spencer" Dunn II, and William McLaughlin.
Players four the District 7 state representative include Kyle Lorenz, MayLynn Mitchell, Tyler Huntsman, Matthew Richards, Jonathan Hignite, Rory Jaramillo-King, Jordan Morine, Jesse Van Duyn, Joshua Hart, Karl Fenster, Dallas Bain, and Jacoby Hedington-Stephenson.