Wanda Jackson still rocks
Wanda Jackson still rocks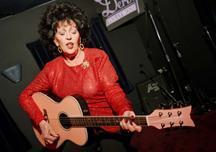 Wed, 07/27/2005
NEWS-TRIBUNE
Legends are seldom recognized in their own time. For Wanda Jackson, it took nearly three decades before she realized that she was a trailblazer for women in rock 'n' roll. She toured with Elvis and wrote hard-driving rockabilly songs in the 1950s and '60s, at a time when rock was still in its infancy, and very much a male-dominated field.
"I was just trying to do my thing, and make my living doing it," she said in a phone interview from her home in Oklahoma City last week.
Jackson will perform this Saturday, July 30 at the Tractor Tavern on Ballard Avenue Northwest. She likes smaller venues in general and the Tractor Tavern in particular, calling it a "live room" with lots of energy. In Europe, Jackson has performed in 70,000-seat stadiums. She would rather play in a club with a few hundred people, where she can sing to the audience, not at them.
"They're both exciting, but I really like the smaller venues," said Jackson.
Jackson, 68, began singing professionally in 1951, performing country songs on a local radio station in Oklahoma City. Before she graduated from high school, she had a contract with Decca Records.
In 1955 she met and befriended Elvis Presley while on tour, and Jackson credits him with convincing her to try rockabilly.
"Elvis gave me the push that I needed," she said.
She took advantage of the opportunity and recorded songs like "Hard Headed Woman," "Rock Your Baby" and "Let's Have a Party," a hard-hitting rocker that became her top rockabilly hit.
Jackson became a born-again Christian in 1971 and spent the next 10 years or so writing and performing gospel music. In 1985, though, she was invited to perform in Sweden and record an album there. She was an instant hit and found herself in demand all over western Europe.
Ten years later, the same thing happened here. Rosie Flores invited Jackson to play on her new album, and the two put together an impromptu five-week tour across the United States.
"It wasn't all that hard to set up because everybody wanted us," said Jackson.
She still draws fans of all ages who come to hear the songs that made Jackson famous in the 1950s and '60s. She doesn't dress up the music with fancy arrangements, opting instead to perform them with the straight-ahead, basic sound she originally used when she recorded her hit songs. It doesn't seem to bother her old fans or her new ones.
"I'm just happy that the new generation has found me, and I found them," she said.
Jackson doesn't write many songs these days - "I've gotten lazy in my old age," she explained - but still loves to tour and perform. She is currently working on an album of Elvis covers, and earlier this year was awarded a National Heritage Fellowship from the National Endowment for the Arts - the highest honor for traditional artists. "I'm very humbled by that," she said.
Wanda Jackson will perform Saturday, July 30 at the Tractor Tavern, 5213 Ballard Ave. N.W., at 9 p.m. Tickets are $15 through ticketweb.com. Ruby Dee and the Snakehandlers open.