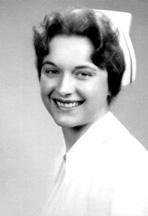 Julia Rita Antonioni Rhodes, age 65, died unexpectedly of a heart attack on Tuesday, Sept 6th, 2005. Julie is survived by her son Jeff Rhodes, daughter Michelle Wardian, and 4 sisters: Joanne Polzen, Mary Ann Wondra, Lucy Kohli, and Cathy Osborne. Julie also leaves behind her beloved grandchildren Ava Wardian, Noelle Wardian, and Thomas Rhodes. Her special canine companion (Domino) was adopted by Julie's son.
Julie was born in Mayville, Wisconsin to John and Angelina Antonioni who immigrated from Cis, Italy. Julie was a registerered nurse and traveled to Seattle in 1964 with 2 dear friends in a Volkswagen bug. It was here that Julie met her husband Tom Rhodes, a Seattle policeman. Tom and Julie lived in West Seattle where they both loved the water and the beach. Julie's husband Tom died in 1992 at the age of 54, so it is with comfort that her family knows they are together again in heaven.
Julie's favorite activities were gardening, walking her dog, having coffee with her friends, and dreaming up imaginary games for her grandchildren. Julie also loved her job, and only just recently retired from Minor & James Medical were she was a cardiac nurse for 30 years.
Julie's friends were most precious to her. To all that read this please know that she is smiling down from heaven, thankful for everyday with such wonderful people. She will miss you very much, and our family is blessed to have you in our lives keeping Mom's memory alive.
Funeral services were held for Julie at Holy Rosary Church, Monday Sept 12th.
A party followed at Julie's former home, where friends toasted her beautiful life. Julie will rest at Evergreen Washelli, next to her husband Tom. WE MISS YOU MOM.