Ballard high girls swim for charity
Ballard high girls swim for charity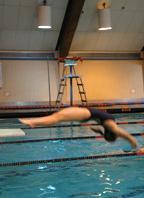 Wed, 09/21/2005
The Ballard High School girls swimming team is aiming for the state playoffs at several positions this season, but plans to take some time off on Oct. 1 to hold a Swim-a-Thon, event to raise money for Hurricane Katrina victims.
Team members came up with the idea of organizing a Swim-a-Thon, at the Ballard Pool from 7-10 p.m. that evening.
"It's something the girls wanted to do," said Head Coach Carlos Palacian.
The team has not come up with the exact format for the fundraiser, but swimmers will most likely swim laps or distances for pledges. The public can also make an outright donation.
Checks should be made out to the American Red Cross and sent to: Ballard Girls Swim Team Swim-a-Thon, Ballard High School, 1418 N.W. 65th St., Seattle 98107.
Palacian is in his third year as the team's head coach. When he joined the team in 2003, he envisioned a five-year plan to turn the Beavers into a top contender in King Co.
"We are where we wanted to be," he said. "This is where I hoped to be moving towards."
The hard work the swimmers have put in, in Palacian's first two years has paid off and he thinks the team will only get better.
The team is looking solid, despite the loss of Jade Sharify to graduation. Palacian said although Sharify will be tough to replace, the team has not missed a beat this fall and is doing fine.
The team has found a new talent in freshman Briana Meyer who swims year-round with Salmon Bay Aquatics (SBAY).
Meyer has already broken a school record after only two meets. She broke Sharify's record of 103.8 in the 100 fly twice. The fastest time was 102.16.
Meyer has confidence. She didn't seem surprised to break the record. If she makes 102. in the event, she automatically qualifies for state.
"I think we will be good this year," said Meyer. "I've always wanted to swim for Ballard."
Palacian says Meyer brings talent to the team and is a great addition.
Senior Robyn Kaperak is swimming well and is two-tenths of a second from a state qualifying time in the 50 free.
"She is looking good," said Palacian. "I'm fairly certain she will make it soon (state time). It's her senior year with high expectations. She is on schedule."
Sophomore Linnea Scott is a 500 free distance swimmer and also competes in the 100 meter breaststroke.
Scott needs to shave off five seconds in the 500 free to earn a spot at state. Swimming with SBAY gives her an advantage.
"We are better than last year," said Scott. "We have a lot of team strength and we have Briana. It's going to get better."
Junior, Heather Stevens adds to the talent pool for Ballard. She competes in the fly and IM events.
"She is really, really strong," said Palacian.
Ballard hopes to get at least two relay teams to state and Palacian is counting on Jennifer Jaeger to help out.
"She is crucial to qualifying for state," said Palacian.
Jaeger's father, Leo Jaeger, has joined the team as an assistant and is making a big difference with 52 girls on the roster, split between the varsity and junior varsity.
Allio Boyer is improving her times on breaststroke events.
The team has five girls in the diving program. Only one is a returnee.
Sophomore, Lena Takamori has been diving for only three weeks.
"It's something I don't normally do," she said. "I wanted to try new things. It's harder with no previous experience. I was not ready for how mentally challenging it is."
"They are young and will be around for a long time, and they will only get better, we are excited about that," said Palacian about his young diving group.
David Dawson, who won a gold and silver medal at a Masters Competition this summer, leads the divers.
Even though Ballard lost to Inglemoor, last year's state champion 124-62 to open the season, the score was not as bad as it sounded.
"We scored 11 more points than the previous year," said Palacian. "It's a sign of improvement."
Another loss, this time to Woodinville, showed promise. In past years, Ballard would lose by 50 to 60 points. Last week, the Beavers only lost by 19 points to the swimming power from the eastside.
"We always start the season against the best teams," said Palacian. "It's easier in the second half of the schedule." But he is pleased with the team's progress.
"I see a lot of improvement," he said. "The attitude has changed, it's more team oriented. They are putting in the work."
Ballard meets Garfield on Friday, Sept. 30 at the Queen Anne Pool. Bothell visits the Ballard Pool on Friday, Oct. 7. Meets start at 3:30 p.m.