Sports Roundup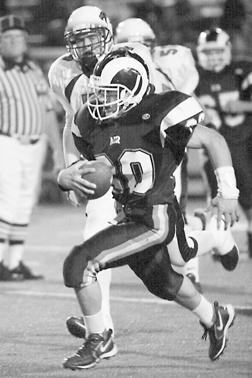 Wed, 09/21/2005
Girls soccer
Kentridge 3, Kennedy 0
Rachel Dorney and Brooke Yokers shared the shutout for Kentridge in a non-league match against the Lancers.
Mt. Rainier 4, Renton 0
Sarah Martinez knocked in the Rams' opening goal in the seventh minute off a Nicole Murray assist, then Martinez scored again only on a Chanel Fuchigami assist in the 33rd minute. Jordan Taylor and Becky Harris assisted Martinez on a goal in the 37th minute. Fuchigami put in a Sam Brown assist in the 59th minute.
Anne Bertucio and Ashley Messmer combined for the shutout.
Kennedy 4, Hazen 1
Jackie Thomas of JFK scored unassisted in the 16th minute Tuesday, Sept. 13 and Thomas tallied another goal in the second half on a Gabby Besaw assist. Lauren Donlin assisted Thomas on a goal in the 71st minute and Donlin scored on a Riley Boblenz assist in the 77th.
Highline 2, Lindbergh 2
Kayci Donatelli scored in the 43rd minute and Kaitlyn Heinsohn on a Whitney Wagner assist in the 45th.
SCS 6, Ev. L.1
Katie Haynes, Grace Dostert, Elissa Kane, Noelle Simpson, Tianna Honad and Sara Tripoli all scored for Seattle Christian Tuesday, Sept. 13. Emily Swanson scored Evergreen Lutheran's goal.
Nathan Hale 9, Foster 1
Amanda Mayers scored Foster's lone goal in the 77th minute on an assist by Jennifer Kent.
Bear Creek 4, Ev. Luth. 1
Kelsey D'Andrade scored Evergreen Lutheran's goal in the 67th minute Thursday.
Kennedy 4, Lindbergh 0
The Lancers did not get on the scoreboard until the 46th minute Thursday, when Jackie Thomas scored on a Taylor Trautmann assist.
Amanda Arntz scored on a Gabby Besaw assist in the 51st minute and Dani Diaz on a Lauren Donlin assist in the 60th, with Diaz tallying a goal on a Thomas assist in the 62nd minute.
Cris Lewis earned most of the shutout on goal and Ashley Engel played the position from the 61st minute on.
Mt. Rainier 3, Hazen 0
Anna Bertucio recorded the shutout for the Rams Thursday, with Jill Schneeman taking over in the 70th minute.
Nicole Murray scored the opening goal on a Sue Faist assist in the 33rd minute, then Murray scored on Sarah Martinez assist one minute later. Martinez assisted Becky Harris on a goal in the 45th minute.
Foster 4, Cle Elum 0
Rachel Blanchette scored all four goals for Foster Thursday and Jessica Hollingsworth posted the shutout.
Highline 7, Evergreen 0
Brianna Lemmar and Kelly Youngberg both got in on Friday's shutout for the Pirates.
Kaitlyn Heinsohn scored the first goal on a Jane Connelly assist in the 29th minute, then Heinsohn struck unassisted in the 39th. Connelly then scored on a Maddie Davila and Julia Stanke assist and Kailey Burton on a Kayci Donetelli assist. Donetelli then scored on a Deanna Knox assist. Heinsohn booted a penalty kick goal before the Pirates picked up an own goal.
SCS 3, Cashmere 2
Noelle Simpson scored the Warriors' first goal on a Grace Dostert assist in the second minute. Tianna Honad then struck on a Katie Haynes assist and Kayla Clark on a Honad assist.
Boys soccer
SCS 3, Ev. L. 1
Seattle Christian of SeaTac posted a win over Evergreen Lutheran of Des Moines Tuesday, Sept. 13.
SCS's Erik Seeman scored the first goal in the 12th minute on a Cory Peterson assist, then Nic Sangder started the team up in the second half with a goal in the 46th minute on a Nolan Roquet assist. Peterson put in another score in the 60th minute.
Daniel Kurbis talled Evergreen Lutheran's goal in the 67th minute.
SCS 1, Moses Lk. Chr. 0
Seattle Christian posted a shutout win over Moses Lake Christian Friday.
Football
Clover Park 44, Tyee 0
The Warriors won the Saturday, Sept. 10 game over the Totems.
Lindbergh 28, Mt. R. 21
Mount Rainier lost to Lindbergh in a close game at Highline Stadium Thursday.
The Rams were knotted with the Eagles after the first quarter, thanks to a 3-yard touchdown run by Michael Johnson and a 1-yard run by Craig Robinson, with Ricky Dorward kicking both extra points.
Mount Rainier then fell silent until Johnson punched in a 1-yard run to open the fourth quarter to tie the score at 21-21 with the help of another Dorward PAT.
But Lindbergh still pulled out the win on a 51-yard pass from Brandon Whitman to John Desmarais. All four of the touchdowns came on the same connection.
Hazen 55, Highline 22
Doug Owusu scored the Pirates' first touchdown on a 43-yard run, with the kick for the extra point failing. Mesake Leisani was then successful on a run for a two-point conversion after Leisani ran the ball in for a two-yard touchdown. Owusu scored the final touchdown on a 1-yard run, then he ran for a two-point conversion.
Golf
Kennedy-Highline
Kennedy scored a 53-42 victory over the Highline boys Monday, Sept. 12 as the Lancer girls team won by a 5-38 margin. Stephanie Krueger led the girls with a round of 50 and Chas Burns shot a 39 to lead the boys.
Volleyball
SCS 3, Aub. Adv. 0
Seattle Christian was a 25-11, 25-10, 25-10 winner over Auburn Adventist in a Monday, Sept. 12 match.
Gillian Linman scored seven kills and eight aces as Alyssa Abe had two kills and five aces. Danielle Schultz racked up six aces and Annika Linman two assists and six aces.
Highline 3, Mt. R. 0
The Pirates prevailed against the Rams in a Tuesday, Sept. 13 match, 25-12, 25-13, 25-20.
Kennedy 3, Tyee 0
Kennedy emerged as a 25-3, 25-7, 25-9 winner over the Totems Tuesday, Sept. 13.
Rachel Moran of the Lancers racked up 27 assists and three aces. Brittany Montgomery scored 11 aces and five kills while Stephanie Slatt had five aces and two kills. Ashley Eneliki scored seven kills.
For Tyee, Sarah Dew had two kills, Murphy Meers two kills and Barbara Yandi four assists.
Evergreen 3, Lindbergh 1
The Wolverines won by a 25-22, 17-25, 25-21, 25-20 score Tuesday, Sept. 13. Violino Villi had five aces and five kills, with Tiera Lanier scoring six kills and Keilah Fanene eight kills and three aces. Tiare Faleoo tallied 10 assists and Manuia Keni eight assists.
SCS 3, Sea. Luth. 0
The Warriors were 25-23, 25-17, 25-9 winners over Seattle Lutheran on Tuesday, Sept. 13.
Gillian Linman had 12 kills, three aces, two digs and four blocks as Lydia Huget had five kills, three aces and three digs. Annika Linman had 10 assists and one dig and Erika Fredricksen 11 assists and two aces.
Mt. R. 3, Evergreen 2
The Rams rallied for a close win against the Wolverines Thursday, 17-25, 17-25, 25-16, 25-20, 15-11.
Sel Barkel had four aces, three digs and eight kills and Lauren Rondeu nine digs and eight kills. Leka Kelfusi had five digs and 11 kills, Louisa Kelfusi three aces and five kills and Alvina Fesili 10 digs and 25 assists.
Highline 3, Lindbergh 1
Highline won by a 25-4, 25-20, 25-27, 25-15 score over the Eagles Thursday.
Rachel Johnston scored 14 kills, two blocks, 15 digs and two aces as Ashley Vaughn had 21 assists and three kills and Vila Eneliko had eight kills.
Kennedy 3, Hazen 0
The Lancers scored a 25-16,25-9, 25-17 win over the Highlanders Thursday.
Stephanie Slatt had 10 kills and one ace, Brittney Montgomery six aces, one assist and one kill and Rachel Moran 13 assists.
Renton 3, Tyee 1
Tyee came up short against Renton Thursday, 25-17, 25-16, 20-25, 25-23.
Murphy Muir had four aces and nine kills, with Barbara Yandall having five aces and 19 assists. Moonie Fuavai had four aces and six kills and Minh Nguyen nine aces and three kills.
Girls swimming
Mt. R. 133, Lindbergh 52
Mount Rainier won the opening 200-yard medley relay in a time of 2 minutes, 6.78 seconds, then had Schumacher take the 200 free in 1:58.80 and Rice the 200 individual medley (2:21.68). Rice also took the 100 fly in 1:05.01 and Gansneder the 100 free in 58.30. Schmacher won the 500 free in 5:23.04 and the Rams also won the 200 free relay in 1:56.67. Bales took the 100 back in 1:09.29 and Leitnich the 100 breast in 1:18.56. Mount Rainier capped off the action by winning the 400 free relay in 4:06.71.