Heaverlo enjoys ride with Rainiers
Heaverlo enjoys ride with Rainiers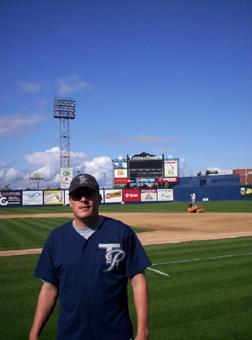 Thu, 09/29/2005
sports EDITOR
Jeff Heaverlo had a momentuos year with the Tacoma Rainiers.
The 29-year-old who once played for Steel Lake Little League in Federal Way made it through his first injury-free season since 2003.
Heaverlo missed the 2002 season after shoulder surgery and then spent the 2003 season in Tacoma, before missing most of the 2004 season after minor shoulder surgery.
Heaverlo came back to help the Rainiers into the Pacific Coast League championship series this year. They lost to the Nashville Sounds in three-straight games, but won the semifinal series over the Sacramento Rivercats, 3-2, after falling into a 2-0 hole with two losses to open at home. All three wins were in Sacramento.
Heaverlo threw two innings in the final game against Sacramento and won in relief, but that's not what he remembers.
"I only know that we went into the clubhouse celebrating," Heaverlo said. "That was the important thing. "
Just as the season started, Heaverlo was moved from his career job as a starter to work out of the bullpen.
"It's an interesting move," he said. "Most of my life I've been up for a start and prepared to throw every five days."
Heaverlo now finds himself following his father - former Major League reliever Dave Heaverlo, who threw for the Seattle Mariners among his many teams.
"He was a middle reliever just like me," said Heaverlo. "The good thing is every day I have a chance to play."
After a rocky start in April, Heaverlo and his slider went to work and he gradually improved his statistics.Heaverlo finished with a 6-3 record and a 4.61 ERA with four saves. He struck out 71 and walked 44.
"The first month was a tough month," Heaverlo said. "A lot of things were going on. Once I got rid of the outside distractions I focused on what's important. The important thing was to get this team to the playoffs."
The Rainiers last reached the playoffs in 2001, when they made the championship series only to have in cancelled because of the 9-11 terrorist attacks. Tacoma and Eastern champion New Orleans were declared co-champions.
Heaverlo, meanwhile, was watching that from afar as he was a member of the San Antonio AA team. He was named by the Mariners as the Pitcher of the Year for San Antonio. He finished with an 11-6 record and 3.12 ERA with 173 strikeouts and 40 walks. He threw 179 innings for the Missions.
Then, after missing 2002 with the shoulder surgery, he posted a 5-12, 5.39 record with the Rainiers with 75 strikouts and 38 walks. In 2004 he was 1-0, 4.76 in only six innings of work.
'It's tough," said Heaverlo. "Getting hurt is one of the things that can take it (a baseball career) away from you. It's nice to have a full season."
To add a postseason is even better.
"It's great," said Heaverlo. "This is an opportunity only two teams get. "